Lionheart Radio
about us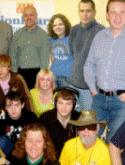 Lionheart Radio 107.3FM - "the voice of Northumberland coming to you from the heart of Alnwick" - a vibrant community radio station
the voice of Northumberland coming to you from the heart of Alnwick
---
Northumberland's only radio station has been on the air since June 2007 - a community radio station - not only providing great music and news, but also supporting the community and providing opportunities and training.
The Northumberland local radio station with an eclectic mix of presenters and music - for a full schedule click on the Lionheart Radio web link above.
Lionheart Radio's coverage is based around Alnwick. If you are out of range then just click the web link above and elect to listen to live music online.
---
Your Say, Your Play, Your Community - Lionheart Radio 107.3FM
---
Select your radio play online or phone or text
call the radio station on 01665 60 22 44
email using the link above
text on 07961 77 1073
---
Lionheart Radio station is always pleased to hear from
Budding Radio Presenters

Radio Producers

Fundraisers

Sponsors

Advertisers

Donors
Contact Lionheart Radio on 01665 60 22 44
---
Please mention thebestof Northumberland when contacting Lionheart Radio - Northumberland's radio station
Contact Us

27 Fenkle Street
Alnwick
Northumberland
NE66 1HW