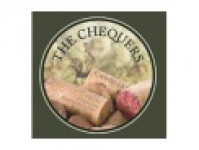 The Chequers Inn - A Cotswold Pub
Goddards Lane
Chipping Norton
Oxfordshire

OX7 5NP
T:
01608 644717
about us



The Chequers Inn in Chipping Norton is a really delightful village pub with a town atmosphere. The Chequers is ideally placed next to The Theatre and serves some well kept beers - as a Fuller's House, the Chiswick Bitter, London Pride, ESB and a seasonally changing guest beer are all served in tip top condition. The Chequers Inn has been awarded the Cask Marque of excellence to prove it! Alongside the beer The Chequers serves an interesting and well thought out menu all day
The Chequers Inn
Goddards Lane
Chipping Norton
Oxfordshire OX7 5NP

t: 01608 644717

w: http://www.chequers-pub.com
---
JUST ANNOUNCED: The Chequers is
the North Oxon
CAMRA Pub of the Year!
---
Originally known as the "Anchor" and dating back to medieval times, The Chequers Inn in Chipping Norton in the Cotswolds was built in the late 1500's and offers history, tradition and character as well as a great Cotswolds welcome!
Located next to Chipping Norton Theatre, The Chequers Inn is very popular with theatregoers and is also a popular, relaxed and informal meeting place for private diners, families and business guests.
The Bar
The warmth of the open log fire at The Chequers Inn creates a cosy and welcoming atmosphere for all guests.The Chequers has a great town pub feel whilst losing none of its rural charm!
Recently awarded the Cask Marque of excellence, The Chequers Inn is a Fullers Pub, offering a fully stocked bar including Chiswick Bitter, London Pride & ESB as well as ciders, wines and spirits and seasonally changing guest beers.
The Restaurant
Formally the old courtyard, the recently refurbished restaurant and conservatory seats up to thirty diners. There is space for a further 30 in the former barn, creating a huge area for parties, meetings etc.Both areas can be hired together or separately and configured to the clients requirements.
The kitchen offers a terrific range of traditional pub food, as well as something a little different!Choose from pub classics such as Ribeye steaks or local sausages, or go for something more exotic with Chicken Basquez or the hugely popular Tapas Selection, ideal for sharing! The kitchen can cater for all dietary requirements, so be sure to mention any special needs at the time - and of course with such a popular Cotswold pub, it's a VERY good idea to book!
CLICK HERE for a glimpse of the menu, but do be aware that things change depending on what's good at the time!
As well as their regular menu, the Chequers is well known for a great value, and delicious Sunday lunch! CLICK HERE for details of what might be on the menu this week!During the Panto season The Chequers Inn offers a speedy and excellent value menu - CLICK HERE to take a look at a sample menu - make a terrific night out of the famous Chipping Norton panto, and top it off with a great meal right next door at The Chequers Inn! It's a good idea to book to be sure of a big enough table to accommodate your party, so give them a call on 01608 644717 to make your reservation.
Function Room
If you need to hire a room for a party or special occasion, the barn function room at The Chequers Inn has proven popular for many events. If the Courtyard Restaurant is added to The Barn the space can accommodate up to 60 people seated and The Chequers can provide teas and coffees etc as well as lunch, beverages (alcoholic and non-alcoholic!) and of course dinner. Give them a call if you have to arrange:
Business Support and Networking Meetings
---
Pub Opening Hours
Bar Times
Monday to Thursday: 11am - 11pm
Friday and Saturday: 11am - 12am
Sunday & Bank Holidays: 11:30am - 11:00pm
Food Service
Monday to Saturday: 12pm - 2:30pm and 6pm to 9:30pm
Sunday: 12pm - 4pm
---
Visit the website or click on our EVENTS section to see the regular events and Comedy Nights at The Chequers Inn, Chipping Norton in the Cotswolds!
Please Mention The Best of North Cotswolds when contacting The Chequers Inn!
The Best of North Cotswolds & The Chequers Inn would like to know your views so that we can provide a better service to all our users. Please be so kind as to write a review. The Best of North Cotswolds Category: Pub Food Restaurant Cotswolds; Public Houses Cotswolds; Function Room Cotswolds; Beer Cotswolds; English Restaurant Cotswolds; Traditional Restaurant Cotswolds provided by The Chequers Inn & www.thebestof.co.uk/northcotswolds
Thank you for visiting The Chequers Inn & The Best of North Cotswolds. For Goods, Services and Events in Stroud, please visit our site at www.thebestof.co.uk/stroud . Thank you!
(c) The Best of North Cotswolds & The Chequers Inn
find us here

offers

follow us

find us on facebook

accreditations