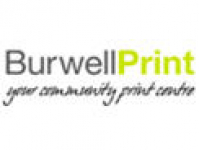 Burwell Community Print
The Causeway
Burwell
Cambridgeshire
CB25 0DX
T:
01638 613102
F:
01638 613107
about us
Burwell Community Print are printers based in Burwell and serving the Newmarket areas. We offer a comprehensive package of design and print services, including black and white and colour printing.
Are you looking for local Newmarket printers who understand the importance of supporting the community? Burwell Community Print is exactly that - we offer a full range of print and design services that are aimed at promoting and helping the local Burwell and Newmarket area.
---
Burwell Community Print - A Social Training Enterprise
Established over 13 years ago in Burwell near Newmarket, Burwell Community Print is a highly regarded printing and print finishing centre offering a wide range of printing, photocopying and design services.
We are a charitable enterprise and business that trades for a social purpose. Our dedicated team provide accredited vocational training and work experience for people with disabilities.
Through our printing and design business, we promote independence and increase self-esteem for adults with learning disabilities in a stimulating working environment, whilst providing a quality design and printing service.
---
Burwell Community Print - What we Provide
Whatever you need, we offer a fully comprehensive package of printing and design services. The local printers can take on small prints and medium sized print runs, whether it's in black and white or colour.
• Drop-in photocopying
• Community newsletters and magazines
• Printing raffle tickets for local groups and charities
Based near Newmarket, local printers, Burwell Community Print offer a full design and print service. If you need to update your stationary or marketing communications, our in-house design team can help. This includes the printing and design of;
• Business stationary or business cards
• Wedding invitations
• Personalised calendars and prints
• Posters
• Leaflets
• Fundraising packs
We also take on smaller administrative jobs that other printers often don't provide, whether that's putting together information packs, sticking labels on envelopes, Burwell Community Print are here to help.
---
Training and workshops
Burwell Community Print have a fully networked IT suite that can be used for training events and workshops. This is available for hire to all local businesses and organisations.
If you'd like information on any of our printing or design services, we'd love to hear from you. Please contact Sue Anderson on 01638 613102, or e-mail sue.anderson@burwellprint.co.uk
---
Please remember to mention The Best of Newmarket when contacting your local community printers, Burwell Community Print.