Pizza Express
(

2

reviews)
about us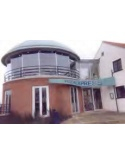 Well regarded restaurant in Newark - Pizza Express
---
Restaurant - Pizzeria
Dine in Style
Pizza Express, Newark, a fun and informal restaurant to enjoy a taste of Italy this summer!
---

Pizza Express is the perfect restaurant to enjoy good wine, delicious food and fabulous pizzas in one of Newark's most idyllic locations.

The pizzeria-style restaurant is brimming with continental character and flair, where flamboyant chefs are seen preparing the mouth-watering menu and pizzas in the restaurant's open kitchens.
Soft music and candlelight create a relaxed and sophisticated restaurant atmosphere for evening dining in this restaurant, while the delightful landscaped gardens are a 'great escape' after a long day, a place to sip a glass of wine or a chilled Italian beer, looking out over the best of Newark on the banks of the river.

In fact, the Pizza Express restaurant in Newark enjoys an ideal town location, with car parking directly opposite the restaurant making it easy for all the family to come along and enjoy a meal together – the Italian way.
This is a restaurant where you can choose from daily specialities, pizzas or select a favourite dish from the menu. At Pizza Express we combine all that's wonderful about traditional Italian dining with a flair for a fresh new flavour.


The restaurant specialises in aromatic Italian breads and starters, pasta dishes and nearly two dozen different pizzas ensuring  there is always something new on the menu for you.
The dessert menu is an irresistible mixture of ice creams, Italian-inspired cakes and puddings.

But Pizza Express in Newark, isn't a restaurant just about food and fine dining – staff at the pizzeria restaurant are passionate about local life too, sponsoring events such as The Newark Jazz Festival and Race for Life, as well as welcoming local school children to take part in cultural learning activities.

So book your table today at our restaurant and you can enjoy pizza the Italian way at Pizza Express, Newark.
---
Please mention The Best of Newark when calling this pizzeria restaurant
Contact Us

Town Wharf
Newark
Notts
NG24 1EU