Neath Rugby Limited
about us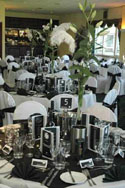 For corporate hospitality and entertainment in Neath why not use the excellent facilities at the John Smiths Gnoll overlooking the pitch at The Gnoll.
<?xml version="1.0"?>
For Corporate Hospitality and Corporate Entertainment the John Smiths Gnoll at Neath Rugby Ltd is the perfect location for all Neath businesses.
Set in the centre of Neath with ample parking, Neath Rugby Ltd is proud of the John Smiths Gnoll as a corporate hospitality and corporate entertainment venue. It is the perfect place for client entertaining. You can even book our corporate hospitality tables to coincide with Neath Rugby's home matches.
---
Why use the corporate hospitality and business entertainment at The John Smiths Gnoll?
It is the ideal Neath venue to impress local and national business customers
It is an ideal way to reward and strengthen your relationships with existing business clients
---
Corporate hospitality and entertaining is one of the fastest growing areas of marketing and sales promotion. Neath Rugby Ltd has set a goal to make it enjoyable, impressive and memorable. By doing all three Neath Rugby Ltd has found that they are very successful in making corporate hospitality work.
---
Neath Rugby Ltd cater for all your hospitality and entertainment needs. Your party will be entertained in comfortable surroundings. Quality catering, service and personal attention to detail from the
Neath Rugby
business team will ensure you can concentrate on enjoying the social side of the occasion.
---
For information on Corporate Hospitality and Corporate Entertainment please contact the sales and marketing team at Neath Rugby Ltd on 01639 622030 or email d.barton@neathrugby.co.uk. Please follow the link to the corporate hospitality on Neath Rugby's website. Corporate Hospitality
---
Please mention that you found this information through the Best of Neath website.
The Best of Neath putting the people of Neath in touch with the best businesses in Neath
Contact Us

13 Old Market Street
Neath
Neath Port Talbot
SA11 3NA