about us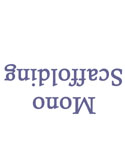 Working up high in and around Neath? Be safe, get a scaffold under you. Call the professionals, Mono Scaffolding.
If you are working up high, you need a sure foundation.
Mono Scaffolding of Brynamman hire scaffolding for commercial, domestic and industrial projects in the Neath and Port Talbot area and across South Wales.
Registered with the Construction Industry Training Board, Mono Scaffolding use professional scaffolders who take your safety seriously.
---
Your safety is our priority.
---
Just call
Chris on 07967 503615 or
Kyle on 0768 285394
to have a building scaffold delivered, erected and adjusted on your site anywhere in the Neath area.  At the end of the project, our scaffolders will dismantle and remove the building scaffold for you.
---
Experienced, professional and insured.
Mono Scaffolding have been in the business for 10 years and provide a friendly and reliable scaffold hire service to builders and members of the public throughout the Neath and Port Talbot area.
For large or small, short or long term projects in and around Neath, use fully insured, Welsh speaking scaffolders, Mono Scaffolding.
---
Before you go up get a building scaffold from Mono Scaffolding under you.
---
When you contact Mono Scaffolding please mention<?xml:namespace prefix = o ns = "urn:schemas-microsoft-com:office:office" />
The Best of Neath website.
Contact Us

The Yard
37 Amman Road
Brynamman
Neath Port Talbot
SA18 1SW