Scarborough Fare
about us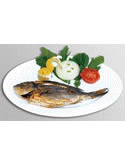 Scarborough Fare of Melton Mowbray, a fishmongers for all your fresh fish and game requirements
<?xml version="1.0"?>
Stuart and Jayne Scarborough own and run Scarborough Fare Fishmongers on Sherrard Street, Melton Mowbray. 
We pride ourselves in supplying quality fresh fish and seafood to both the public and catering customers.  We prepare fish to your requirements. 
Our fish and other fresh seafood is delivered 5 nights a week to our shop in Melton Mowbray, from fish markets around the country.  We usually carry 30 – 35 different types of fish and a wide range of seafood.
We do not sell any pre-frozen fish, but sell fresh fish from sustainable stocks, which means the larger and more mature fish are sold.  For example, our Salmon fillets will be from a 12 – 14lb fish. 
The fish we sell includes:
Swordfish steaks
Tuna
Perch
Snapper
Halibut
We also sell fresh Cod, Haddock (you can even buy natural smoked Haddock) Wild Sea Bass, Sea Trout and Dover Sole (a speciality to look out for is Jayne's own fish pie mix!)
Other seafood, also available:
Anchovies in garlic or oil
Crayfish tails
Sardines in basil
Seafood salad
Crabsticks
Roll mop, prawns and cockles
Salmon or cod fishcakes
Kipper fillets
Smoked mackerel
Our selection of free range eggs includes duck, quail and even ostrich.
At our Melton Mowbray shop, we also stock a range of quality frozen seafood products at very competitive prices, from potted shrimps to seafood cocktail to squid.  We do a full range of prawns whether your needs be cooked or raw, small or large.  Whatever you require, we can source it for you, including crabs, lobsters and oysters.
We sell game when in season.  This includes wild rabbit, pheasant, mallard, partridge, venison and wild boar.  Our venison sausages are especially delicious in red wine and do try our wild boar and apple sausages.  Also highly recommended is our smoked duck breast and venison casserole.
When visiting Scarborough Fare Fishmongers, don't worry if you are not sure how to cook something to get the best results.  Stuart and Jayne have years of experience and can recommend ideas from basic cooking to delicious dishes that will be the talk of any dinner party!
---
Opening Times
Monday                 Closed
Tuesday               8am – 4pm
Wednesday          8am – 1pm
Thursday              8am – 4pm
Friday                    8am – 4pm
Saturday               8am – 3pm
Please note that we only accept cash and cheques
Trade enquiries welcome
---
As well as at our shop in Melton Mowbray, you will also find us at the following Farmers' Markets:
1st Saturday in the month  Sleaford
3rd Saturday in the month  Bingham
2nd and 4th Saturdays in the month West Bridgeford
Every Wednesday - Market Deeping
---
Please mention 'The Best of Melton Mowbray' when visiting Scarborough Fare fishmongers, whether at their Melton Mowbray shop of at one of the many Farmers' Markets.
Contact Us

Scarborough Fare
54 Sherrard Street
Melton Mowbray
Leicestershire
LE13 1XJ