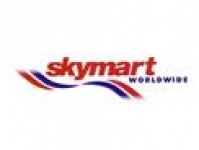 Skymart Worldwide
MIOC
Styal Road
Manchester

M22 5WB
T:
0161 493 1000
F:
0161 493 1001
about us

Skymart Worldwide - South Manchester's freight forwarding experts.
---
...the logistics partner of choice
for your
South Manchester business
Whether it be air freight, sea freight, consignement monitoring or commercial support, Skymart Worldwide offer a first class freight forwarding service to meet the needs of your business.
From single shipments to multi-location logistics programmes, our tailor made approach will help your South Manchester business capitalise on new opportunities and markets.
We're proud to have developed a comprehensive series of worldwide transportation services which meet the growing needs of our customers' supply chain. Put simply our experts have the specialised skills and entrepreneurial ideas to help you meet the challenges facing your South Manchester business.
By the leading Manager of one of the largest Global Electronics companies:

'...There have been so many times over the past 8 years where you guys have pulled out all the stops, too numerous to mention, only yesterday a vital piece of medical equipment was collected from Heathrow and shipped to Holland within twenty four hours. The quality of service and reliability is second to none, I know, as I have dealt with approximately fifty different agents in the past. It is a pleasure working with a 1st class freight forwarder with a personalized service at all times, that to me is most important ...'

---
Skymart Airfreight
...competitve prices on all the major air cargo carriers
Worldwide door-to-door service

Premium direct services

Next day delivery

Competitive transhipment options
As full IATA members Skymart Worldwide are fully equipped to provide you with very competitive prices on all of the major air freight carriers around the world.
---
Sea Freight
...the best advice and direction
Full-container-loads (FCL)

Part-container-loads (LCL)

Full freight consolidation services

Effective solutions for imports/experts
Armed with a wealth of experience in all areas of ocean logistics, we can provide you with the best direction and advice for your South Manchester business. Call us today and we can provide you with the cost effective freight shipping options that your business needs.
---
Consignment Monitoring
...tailored global tracking
Global tracking platform

E-mails at key milestones

24/7 real time tracking

Peace of mind

Tailored to your specific requirements
Skymart Worldwide's tailor made global tracking service will change your time management concept. Our 24/7 accessible system will give you peace of mind by advising you by e-mail as to exactly where your goods are. Work with us and see your business profits grow as you become more and more competitive in the market place.
---
Commercial Support
...looking after you
every step
of the way
HM Customs brokerage/advice when you need it

ERTS/Bonded warehouse options

Associated warehouse services

(pre-retail if required)

Surface transport to end customer

Timed deliveries

Deferment facilities to get your goods through customs quickly
At Skymart Worldwide we value our customers. That's we we hlep them every step of the way by providing the most up to date commercial advice and support.
Let Skymart Worldwide become the logistics partner of your choice.
---
Skymart Worldwide
South Manchester's freight forwarding experts
Sky RapidRate - Your quote within the hour by e-mail or by telephone. Simply fill in the online form by clicking here: Sky RapidRate
Offer: Free Customs Clearance - refer a new company to Skymart Worldwide and receive one free customs clearance. See offer details by clicking here.
Call now on 0161 493 1000
or visit our website
---
Request your free copy of 'A Simple Guide to Importing' brochure by clicking here.
---
Please mention The Best of Manchester South when you contact Skymart Worldwide regarding air freight, sea freight, or any other aspect of worldwide transportation for your business.
---