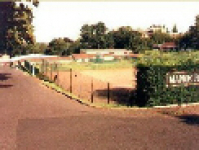 The Manor Park Club
Albert Road North
Malvern
Worcestershire
WR14 2TL
T:
01684 574010

about us
The Manor Park Club is a beautiful place to enjoy a game of bowls. The gorgeous views of the Malvern Hills in the background and quiet surroundings make this a wonderful bowling venue.
The Manor Park Club, set in 10 acres of beautiful grounds close to Malvern town centre provides excellent sporting facilities for members and non members. The club attracts a wide adult and junior membership from Malvern and the surrounding areas it is easily accessible by private and public transport.
Offering a broad range of sports including tennis, bowls, archery, squash and table tennis, The Manor Park Club is open to all and provides a mixture of indoor and outdoor facilities for beginners and experienced players. This well maintained club also offers dining and bar facilities for social events that take place during the year.

The Manor Park Club welcomes players of all ages and abilities to take part in, and enjoy sport. Whether you want to improve your sporting skills or simply enjoy the social benefits that sport offers, The Manor Park Club has much to offer to members and non members.

If you haven't played any form of sport in a while don't feel daunted, The Manor Park Club provides excellent coaching to help you improve your game. Tournaments are held during the year and are an excellent way to have fun and meet fellow members.
The Manor Park Club's beautiful location makes it a superb place to enjoy a game of outdoor bowls. The six rink outdoor grass bowls green is available from mid April until the end of September weather permitting. During the summer season on a Friday evening you can enjoy a friendly game, followed by a light snack, what better way to meet fellow members and learn more about what bowls has to offer.
During the winter season bowls can be played on the indoor rinks, their pro-weave surface is regarded as one of the best in the Midlands.
The Manor Park Club in Malvern offer flexible membership to meet the needs of all. This includes full membership for individuals and couples together with junior & family packages. The wide range of social and competitive sport, coaching and social events makes The Manor Park Club a fantastic place to get involved in sport and improve your social network.
Why not visit their website at www.manorparkmalvern.com
Or call call 01684 574010 for further information
Email: information@manorparkmalvern.com