about us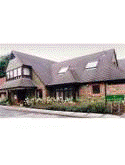 The Charitable Organisation, based in Maidstone but with It's Heart in Kent
The Heart Of Kent Hospice is a Charitable Organisation
But What is It?
We are a specialist care unit providing expert care and support for patients with advanced cancer, motor neurone disease or other life threatening illness where curative treatment not possible. Multi-professional teams at the Hospice are experienced specialists in the control of symptoms, including pain. We care for the physical, emotional, social and spiritual needs of patients, families and friends.
Our in-patient unit has 12 beds and the Day Therapy care unit, open 5 days a week, cares for 100 patients a year. We also care for around 250 patients in the community. Our Family Services Team provides a bereavement service including supporting children of the families we help.
Our commitment is to work with each patient and family to enable them to improve their quality of life and to live each day as fully as possible.
Costs:
Hospice care is FREE to patients but running costs in 2006 will be approx £2.5 million. As a charitable organisation we raise the bulk ourselves from the community we serve meaning £285 hourly throughout the year in order to continue our special care.
Raising Funds:
A dedicated fundraising department holds numerous charitable events throughout the year.                                               
There are 9 charity shops in and around Maidstone at:
Starnes Court (Maidstone)  

Coxheath charity shop

Senacre charity shop

Lenham

A charity shop in Staplehurst

Headcorn charitable shop

West Malling

Borough Green charity shop

A charity shop in Snodland    
Lottery :
We operate our own weekly charitable lottery with numerous prizes, tickets bought from any of the charities shops.
Donations:
To make a donation to this charitable organisation complete the form on our website or send a cheque made payable to The Heart of Kent Hospice to the Finance Office at the address shown.
Volunteering:
Over 500 dedicated volunteers assist in all areas of our charitable organisation and in the charites shops. 2005 saw volunteers awarded the prestigious Queen's Award for Voluntary Service
Telephone Maidstone (01622) 792200 ext 201 or 225 for  volunteering information.
15th Anniversary:
2006 is the 15th anniversary for this charitable organisation and many fundraising events will be held to celebrate 15 years of charitable care; Including a charity Alternative World Cup tournament, Mad Hatters Tea Party, Charity Golf Day together with Demelza Hospice Care for Children, and many others. See our website for details.
The Charity With It's Heart In Kent
---
Please mention The Best of Maidstone when responding to this webvert for Charitable Organisations in Maidstone

Contact Us

Preston Hall
Aylesford
Maidstone
Kent
ME20 7PU