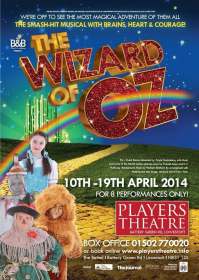 The Wizard of Oz
We're off to see the most magical adventure of them all...
The smash-hit musical with brains, heart and courage, performed by Lowestoft-based B&B Theatre Company.
Come to The Players Theatre and support this great theatre company that transforms learning through arts for 6 - 24 year olds.
Tickets on sale via www.playerstheatre.info or by calling 01502 770020.
Contact Us : 01502 770020

visit us

The Players Theatre at the Bethel
Battery Green Road,
Lowestoft
NR32 1DL

follow us

This is a live stream from Twitter - not the voice of thebestof!

find us on facebook