about us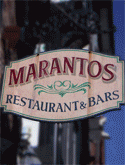 Excellent, welcoming Italian restaurant in Lark Lane Liverpool.
Lark Lane in Liverpool is an area of great character and has been ever since it was first noted in a street directory over 125 years ago.
The building that houses Marantos is now renowned as a local attraction for both Local Liverpool residents and visitors alike.
Marantos Italian Restaurant in Lark lane Liverpool boasts an excellent reputation for service and wide menu selection of excellent food.
Their menu contains much more than the traditional Italian dishes for example their famous Barbecued Baby Back Ribs - A full slab of tender pork baby ribs with their own special sauce. One dish not to be missed.
Other examples of Marantos excellent menu.
Risotto Marinara
Arborio rice with a selection of seafood, black olives in an Italian tomato sauce.
Chicken Tagliatelle
An Italian classic, buttery chicken flavoured with garlic, chilli and ginger tossed with tagliatelle and courgettes in a tomato sauce.
Stuffed Pancakes(V)
For lovers of Italian cuisine,pancakes packed with spinach, onion, ricotta filling, finished with parmesan and mozzarella.
T Bone, Sirloin,& Fillet Steak
Simply grilled with a choice of Mediterranean, whole grain, peppered or Diane sauce.
Chicken Cacciatore
Chicken breast wrapped in smoked bacon, oven baked with a sauce of red wine, peppers, garlic mushrooms and tomato .
A wide selection of Burgers & Pizza's are also available.
Sunday Lunch is also a Favourite at Marantos with a three course lunch for just £8.25 (£4.75 for children.)
Marantos Italian Restaurant in Liverpool has a wonderful warm and welcoming atmosphere and should not be missed.
Opening Times -
Monday - Friday - 12 noon - 2.30pm & 5.30pm - 11pm
Saturdays & Bank Holidays - 12 noon - 11pm
Sunday - 12noon - 10.30pm
Call 0151 727 7200 to make your reservation with Marantos Restaurant.
Please mention The Best of Liverpool-South when making a booking at Marantos Italian Restaurant.