Meet the team at Cure Lichfield
2nd April 2013
Author: Louie C
Comments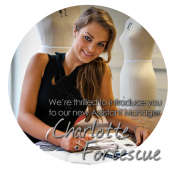 Charlotte joins Cure from River Island where she held the position of Assistant Product Manager.
She's gained valuable experience at Laura Ashley and Richard Andersons on Saville Row too.
Her real passion is for tailoring and whilst completing her foundation degree in Fashion Studies won 'Midlands Designer of the Year - Couture' Award in 2011.
Charlotte is utterly charming, has a great sense of humour, a thorough understanding of the female figure, and she tells us she's a pretty good baker too! Is there no end to this girls talents!
Her favourite designers of all time are: Alexander McQueen and Vivienne Westwood.
When not at work or immersed in anything fashion, you're most likely to find Charlotte out in the countryside or on her parent's farm and hanging out with her gorgeous boyfriend, Tim.
Why not 'pop' in to Cure today meet the team, I'm sure the coffee will be on!