Federation of Small Businesses
about us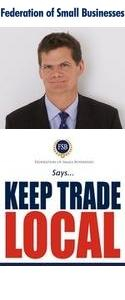 Business Support and Networking in the Lewisham borough and surrounding areas with Stephen Lloyd from the Federation of Small Businesses (FSB)
As the UKâs largest national business organisation, the FSB offers businesses based in the Lewisham Borough and the surrounding areas a superb membership package. These include substantial discounts and comphrehensive employment & tax cover.

Being a not for profit company, owned by our members, means the FSB subscription rate are very low.

Our sheer size also means we have been able to negotiate some terrific discounts from free banking to discounted insurance rates, to the lowest merchant service rates in the business, preferential rates on factoring, raising finance for SMEâs, reduced telecoms bills and much more.

In short, the FSB protects its members and saves them money!

As the membership officer for South East London, Iâd be very happy to come and tell you more about what the FSB provides for its members.

Frankly, Iâd be very surprised if I do not save you more money than the subscription costs!

TESTIMONIALS

"As a mobile mechanic it is very important that I can take card payments by the roadside. One of the reasons I joined the FSB in South East London is they provide the cheapest credit/debit card facility in the marketplace. The discounted price of FSB Streamline saves me £'s every month. Makes sense to me!"
 
Stuart Parker
Proprietor
Automotive RS - Mobile car service, repairs and breakdown service
www.automotivers.co.uk

âI joined the FSB after meeting with Stephen and am very pleased I did.  The benefits of the FSB have been great, in particular the free banking which has saved me a lot in bank charges. I now recommend to my clients that they also join the Federation.â
 
Ben Fells
Accountant
Curve Accounting Ltd, Dulwich.
www.curveaccounting.com   
 
âHi Stephen, Thought Iâd share my first FSB success story with you. Our AXA contents/public liability insurance was due for renewal and weâd had a quote in for £669. Called FSB Insurance and have got it for £347!  So, thatâs paid for this yearâs membership already. Thanks so much.â
Jacqui Freeman
Director
JD Marketing, Blackheath.
www.jdmarketing.co.uk

âAs a very busy restaurant we have been taking credit card payments for years. When Stephen joined us to the FSB our card charges dropped immediately by an average of £150 per month!  A very, very competitive rate. Well done FSB.â
Michael Poulson
Topolino Italian Restaurant.
www.topolino-restaurant.co.uk

If you run a business in the Lewisham borough and South East London area and would like more information on how the FSB can help you, please ring Stephen Lloyd, FSB South East London Membership Officer, on

07885 674194 

or email him: fsblloyd@hotmail.co.uk
More details on the services provided by the FSB can also be found on : www.fsb.org.uk
Please mention The Best of Lewisham
when contacting Stephen from FSB
THE BEST OF LEWISHAM
CHAMPIONING LEWISHAMâS
BEST BUSINESSES
 
Federation of Small Businesses (FSB)
Lewisham borough - South East London - UK
Contact Us