Clarkes of London Coaches SE26
about us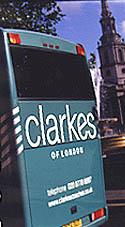 Clarkes of London Coach Hire Sydenham - Lewisham Borough and all over London
Clarkes of Londons priority has always been to put the customer first and that's just what we have been doing for over 30 years.
It's one of the main reasons for our success and why Clarkes of London Coaches enjoys such an envied reputation in the coach hire business not just in Sydenham - Lewisham but throughout the country.<?xml:namespace prefix = o ns = "urn:schemas-microsoft-com:office:office" />
Over the years, Clarkes of London Coaches learnt the simple truth that, in a people business, if you look after all your customers with care and professionalism, you'll have a successful business.
At Clarkes of London Coaches, one of our key objectives is to enhance the reputation of your business by looking after your customers with courtesy, reliability and safety.
First Class, First Choice for Lewisham


It's because we go that extra mile in customer service that so many organisations turn to us first. It gives them peace of mind because they know they will get a thoroughly professional service other coach hire operators can only aspire to achieve. The fact that many clients have been with Clarkes of London Coaches for over 25 years says we must be doing something right.
A Package to Suit All Needs

The varied fleet of vehicles operated by Clarkes of London Coaches - Sydenham, together with the wealth of experience within our driving force, allow us to tailor a package to suit all needs which, in addition to our UK customers, include incoming tourists of all nationalities booked via local agencies, prestigious corporate groups and private individuals.

Private  Coach Hire
We provide competitive quotes for a variety of private hire groups, including weddings,evening theatre trips, race days, theatre trips, short breaks (UK or continental), day trips and ski tours.

Corporate Coach Hire
UK or Continental functions,exhibitions, conferences, exhibitions, sporting events, rail strike cover can all be catered for and we will tailor a coach hire package to suit your needs.

Contracts & Agencies
Clarkes of London Coaches are always willing to quote for regular service hire contracts.We provide competitive tariffs to UK based tour agencies, for incoming airport transfers, sightseeing and organised touring. In association with The Ski Company we operate a ski programme to the Swiss Alps www.ski-schools.co.uk
Clarkes of London Coaches Sydenham
---
Please mention The Best of Lewisham
when contacting Clarkes of London Coaches Sydenham
---
The Best of Lewisham
Championing Lewisham's Best Businesses
Coach Hire - Sydenham - Lewisham
Contact Us


Kangley Bridge Road
Lower Sydenham
London
SE26 5AT

our audio