The Kings Head
about us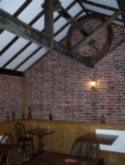 A 16th century country pub and restaurant near Lewes-award winning beers "brewed on the premises"
The Kings Head Inn
A beautiful 16th century  family Inn, situated a few miles from Lewes in the heart of East Hoathly.  The traditional family country pub has a safe walled beer garden to the rear and patio for outside dining and drinking in the summer months.
The pub also has a fine range of beers brewed on the premises, with guest beers available throughout the year.
The pub restaurant is presided over by an excellent French Chef and enjoys an excellent reputation both far afield and locally.
The dishes served in the restaurant use local seasonal produce such as game, poultry and fish, with fresh cooked vegetables all cooked to order.
There is also a board of "Daily Specials" with a good range of tasty puddings to follow.
If you are only after a quick bite, there is a large range of bar snacks available too.
"Children Very Welcome"
We look forward to seeing you at The Kings Head Public House in East Hoathly nr Lewes
---
If you would like to try a scrumptious home cooked meal made with the best local produce please phone 01825 840238 to book your table.
---
The pub welcomes special events to celebrate occasions such as "Mothers or Fathers Day", "Valentines Day" .  The pub is also host to many family birthdays, weddings and Christmas meals etc.  Please call 01825 840238  for further details
---
The Kings Head Inn
1 High Street
East Hoathly, nr Lewes
---
Please mention "The Best of Lewes" when replying to The Kings Head Inn advertising in Public Houses, Bars and Inns in Lewes
Contact Us

The Kings Head
1 High Street
East Hoathly, nr Lewes
East Sussex
BN8 6DR