about us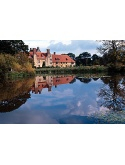 Michelham Priory, one of the great days out and attractions near Lewes
Michelham Priory
Situated a few miles from Lewes, Michelham Priory boasts England's longest medieval water-filled moat.  Steeped in nearly 800 years of history Michelin Priory offers one of the best days out and attractions near Lewes, with plenty of things to do for all the family.
Monasteries and Priories that were built adjacent to  water courses would invariably incorporate milling for self-sufficiency.
The Priory is a beautiful historic property nestled deep in the Sussex countryside.  It offers family entertainment across all levels with – history, exhibits, superbly kept gardens, art exhibitions, wildlife, working watermill.
The Mill which has been restored twice in the last century, 
is operated by a team of volunteer staff.
Whenever possible milling takes place every afternoon from 2.00 pm until closing during the open season. 
You will find yourself intrigued by the way this age-old method seems to outshine the modern when it comes to flour production - a delicious additive-free product from a non-polluting, renewable energy source. 
Just standing in the building when the mill is running is a thrilling experience and children particularly enjoy trying their hand at grinding some flour for themselves.
For a fitting end to your day out, you might like to purchase some REAL flour and take home one or two of our tried and tested special recipes.
There are also plenty of other attractions and things to do at the Priory:
The Forge, a working forge that occasionally is worked by a blacksmith demonstrating his art.
The Rope Museum, an important feature of the industrial history of nearby Hailsham.
The Elizabethan Great Barn – dating from 1597/1601. This is an impressive structure and is frequently used for wedding ceremonies, receptions, corporate dinners, conferences and other functions.
The Iron Age Centre – a replica Iron Age roundhouse and other replica buildings.

The Picnic Site & Play Area
There is also a well-stocked Gift Shop and a self-service restaurant to help boost your energy levels.
For enjoyable Days out and Attractions near Lewes visit Michelham Priory & Gardens
---
For weddings at the Priory please contact Ellen on 01323-849141 or email catermich@sussexpast.co.uk. 
---
For further information on Michelham Priory or details of other entertaining days out and attractions near of in Lewes such as Lewes Castle, Anne of Cleves House, Fishbourne, The Priest House please go to our website:
---

Opening Times - 2013
16 Feb to 1 Mar, 11am to 4pm
2 Mar to 1 Nov, 10.30am to 5pm
2 Nov to 20 Dec, 11am to 4pm
2013 Prices: Adult £7.50, Child / Disabled / Carer £4.00, Student / Senior £6.50, Family £20.00
---
Please mention "The Best of Lewes" when replying to this advert for Days out and Attractions in Lewes
Contact Us

Michelham Priory & Gardens
Upper Dicker
Near Lewes
East Sussex
BN27 3QS