about us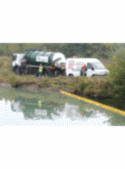 24/7 Emergency Response-Oil Waste Disposal for Lewes and The South East. Minimise the impact of any disaster large or small
CSG Lloyds
24/7 Emergency Response Oil Waste Disposal
- Lewes & Southern England -
At CSG Lloyds we believe waste should be dealt with safely, efficiently and ethically.  Our highly trained personnel tackle any challenge from domestic drainage to natural disasters, and our emergency teams are ready to assist 24 hours a day, 365 days a year.
We continually invest in the latest equipment and training to ensure a responsive and ethical service.
A unique 24/7 service is provided for containment, excavation, waste removal, environmental investigative work and complete project handling for all emergency situations.
We are ready to respond to any oil or chemical emergency within 2 hours from domestic oil spills to major cleanups.  CSG Lloyds is an Environment Agency preferred supplier.
CSG Lloyds have over a decade of experience dealing with all types of emergencies, including:
Oil and chemical spills

Flood clearance

Post-spill remediation

Contaminated land remediation

Road-traffic accident clear up

Disaster management

Site investigation
---
Whatever for emergency, whether around Lewes or the South East,  CSG Lloyds has the expertise, staff and equipment to handle it....Fast.
Tel: Lewes (01273) 401888
---
CSG Lloyds Ltd
Emergency Oil Waste Disposal
Old Hamsey Brickworks
South Chailey
Lewes
East Sussex
---
Total disaster - recovery experts to minimise the impact of any disaster whether large or small scale.
CSG Lloyds Disaster Recovery & Management
---
Please mention "The Best of Lewes" when responding to CSG Lloyds advertising in Oil-Waste Disposal, Lewes
The Best of Lewes : Category : Oil-Waste Disposal

Contact Us

Old Hamsey Brickworks
South Chailey
Lewes
East Sussex
BN8 4QD