Chameleon Studio - Website Design
(

2

reviews)
about us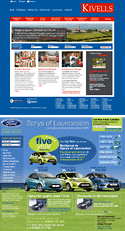 Chameleon Studio are an experienced local website, graphic, and identity design firm with over 15 years experience, and many local clients in the Launceston and surrounding areas - contact them today to discuss your website requirements.
<?xml version="1.0"?>
Launceston Website & Graphic Design by Chameleon Studio
Good website design is not a matter of 'one size fits all', it is more a matter of 'made to measure'.
Perhaps you know you want a website for your Launceston area business, but know nothing about web design, it can all seem very confusing! But it doesn't need to be, your Launceston business can have a website design tailored to your precise needs, click on the link below to see examples, the first you will see is a website design carried out for Sprys Ford dealers of Launceston:
As you can see, no two are the same, but each one does what is required of it. To get started on your own website, start by telling the Chameleon website designer what you want the site to do, from there progress can be made painless - and pleasing!
Launceston Website Design is not all Chameleon do...
For your Launceston business to be most effective, it will benefit from a unified identity whenever and wherever you present yourself to a potential customer, take a look here:
Chameleon Studio's Launceston design services include graphic design and print too.
Chameleon studio, whether designing a Launceston website for you, brochures, business cards, banners or leaflets, will ensure that your business is presented in a consistently professional manner - leaving you free to get on with what matters to you most, ensuring the ongoing success of your business.

Rachel Richards (BA Hons. Graphic Design), the owner of Chameleon Studio, has been practising website and graphic design for fifteen years.
The Best Of Launceston- Website Design, Web Design, E-commerce Websites, Graphic Design - Launceston Directory
Contact Us

Chameleon Studio
Website, Graphic Design and Identity Design
Broomfield
Northlew
Devon
EX20 3NR