The Best of Kettering
(

2

reviews)
about us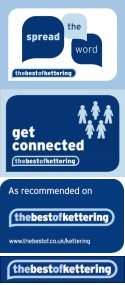 The Best of Kettering. Internet advertising and Marketing for the best local businesses in the Kettering area.
The Best of Kettering.
Providing the optimum online marketing for businesses in the Kettering area.
Why should local businesses use The Best of Kettering?
You will get more business.
You will make more profit.
We enable local people to find your business
We have over 40,000 new visitors to the site each month.
We offer the most comprehensive range of effective marketing support.
We have hundreds of satisfied internet advertisers on the site.
A fantastic range of internet advertising features such as Video, weblinks, logos, photos and loads of text to describe your business.
We can promote your businesses special offers to our extensive Kettering databese of members and other local businesses.
The Best of Kettering is the best local internet advertising for local business. The online advertising and marketing enables local people to find local business, products and services easily online.
Check out the online advertising on the site and see what we can do for your business in Kettering.
Use the weblink at the top of this feature or call us now to see how your business can benefit from internet advertising on The Best of Kettering.
Contact Us

74 High Street
Naseby
Northamptonshire
NN6 6DD

offers

our videos

our audio