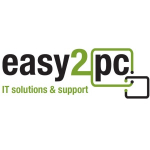 Easy2pc
Unit 5
Cunliffe Drive
Kettering
Northants
NN16 8LD
T:
01536 481 617
about us

Easy2pc Ltd are based in Kettering, Northants and established in 2006 to meet the needs of clients who need quick personal computer services, repairs and networking for their home and Business.
Computer Services
From Easy2pc Ltd
Kettering.
We have moved to a much larger premises in Kettering due to business growth, please call us on 01536 481 617 for any computer help or IT Support you need.

The philosophy of our business is quite simple: We won't speak jargon, we just offer straight forward advice and never miss-sell to you for the sake of profit, and always give you customer service second to none.
Providing computer services, all undertaken in house, with a quick turn round for less downtime and a lower cost - less then PC World as an example. For top rated customer service that is also very female friendly, just call us on 01536 481 617 now.
We know how much you and your business rely on a computer, so in addition to normal business hours we provide 24/7 emergency service and remote computer Support.
You can bring in your computer or we can collect it.
We provide computer services and repairs for all makes and models of desktop and laptop pc computers, this includes Dell, Toshiba, Compaq, IBM, Lenovo, Acer, Sony, Gateway, and HP (Hewlett Packard) computers to name but a few.
Our highly trained and experienced team of engineers will identify and repair the cause of crashes, lockups, system errors, software and/or hardware issues.
In addition to repairing your PC we can increase your performance by getting your computer back into shape.
Computer Services and IT Support Includes:
A full 3 Month Guarantee on all our repair work
1 years warranty on New Replacement Parts
A FREE system performance and upgrade evaluation
Operating system and security updates
We even remove the dust inside your PC

At Easy2pc Ltd in Kettering with over 40 years combined experience has some of the most knowledgeable technicians in the field trained to keep your personal and business computers operating at peak performance.
Easy2pc Ltd Kettering supplies PC compatible computer peripherals and components , supplying thousands of clients, students, public and private sector Kettering and Northamptonshire companies each year with high quality products and IT Support services at highly competitive prices.
Open Monday to Friday 8.00am to 6.00pm
Saturday 9.00am to 12.00pm.
Please call now for full details of our business and personal computer services and IT support.
---
Please mention The Best of Kettering when you call.
---
Found on The Best of Kettering 'computer services, IT Support, IT Support Services' category.