The Blackwell Academy
(

5

reviews)
about us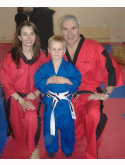 Acknowledged as one of the best martial arts academies in Ipswich and Eastern England
"COMMON sense before self defence
And never be abusive or offensive"
That is just one part of our Academy Creed here at The Blackwell Academy, in Ipswich, but one we pride ourselves in.
Because not only DO we teach people the martial arts of self defence - karate, kickboxing, Ju jitsu - and to one of the highest standards in the United Kingdom. But we also make people feel special, individual and worthy of attention.
++++++++++++++++++++++++++++++++
Hello, My name is Mick Blackwell and I'm an 8th Dan karate master and the chief instructor of the English Korean Karate Association (The EKKA).
I am the principle owner of The Blackwell Academy here in Ipswich, an academy I am proud to say is considered one of the best martial arts academies in the country, specialising in karate, kickboxing and Ju jitsu.
My philosophy is simple. Every student is deserving of personal attention in a safe and secure environment here at my martial arts academy.
I want my students to become "complete" during their time here with us. Not only physically fit, but develop mentally, gain inner strength and inner confidence, making them stronger and giving them that much-needed 'edge' in life. 
Let me introduce you to my Martial Arts Academy
Open six days a week, The Blackwell Academy is a purpose-built building used only as a school for martial arts.
Martial arts is a system of self defence, created in the Orient, that does not advocate the use of weapons. Instead it's a philosophy that believes in strengthening the mind and body through self-discipline, fitness and awareness.
At The Blackwell Academy, here in Ipswich, we teach the fundamentals of the Martial Arts, combining the time-tested Eastern philosophy of Martial Arts, with the modern approach of Western teaching.
++++++++++++++++++++++++++++++++
Adult classes
Karate
Our martial arts programme will get you in shape and develop strong self-defence. Our instructors will keep you on track with martial arts skills that will last you a lifetime.
Kickboxing
The new aerobics class of the 21st Century, kickboxing is hugely popular and, like karate, a great fitness martial art.
Ju Jitsu
Ju Jitsu means the art of suppleness or flexibility. Ju Jitsu does not use strength against strength, it uses the opponents' strength and force of attack AGAINST him.

One of the most complete martial arts, Ju Jitsu is very effective for self defence.
Black Belt Club
A special club for those who go that "extra mile" and show particular commitment. In these classes, students receive more intense learning.
++++++++++++++++++++++++++++++++
Junior Martial Arts
You are never too young to get a good head start in life and our junior karate gives you just that.

Children develop the ability to learn, listen and achieve. We offer well-balanced programmes that emphasis pride, self-esteem, fitness and integrity.

Separate karate classes for beginners, intermediate and advanced students.

 
---
 If you are interested in any of the above martial arts, give us a call at The Blackwell Academy on our numbers here on the Best of Ipswich, where you can arrange for a guided tour of the Academy and an introductory free session. 
---
 When you call The Blackwell Academy, tell them you saw their feature here on the Best of Ipswich
Contact Us

8 Dunlop Road
Hadleigh Road Industrial Estate
Ipswich
Suffolk
IP2 0UG

find us here

find us on facebook