Oak Lodge Chiropractic Clinic
(

8

reviews)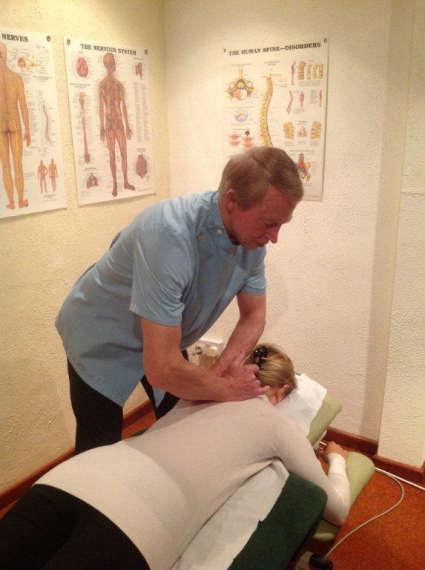 about us
Oak Lodge Chiropractic Clinic offers a gentle yet effective therapy to relieve pain and discomfort associated with joint problems. The clinic is based in Hereford and can treat patients of all ages.
Dr. Bruce Fraser
Chiropractor, B.Sc.(Hons), D.C., B.A., DPhysEd, MMCA, MCC
Bruce Fraser is a highly experienced and respected chiropractor based at the Oak Lodge Clinic near Ross-on-Wye.  He is a graduate of the prestigious McTimoney College of Chiropractic near Oxford and was formerly a Tutor at the College.
Chiropractic is a primary health-care profession that specialises in the diagnosis, treatment and overall management of conditions that are due to problems with the joints, ligaments, tendons and nerves of the body, particularly those of the spine.
Treatment consists of a wide range of gentle adjustment techniques designed to improve the function of the joints, relieving pain and muscle spasm.
The effectiveness of chiropractic treatment is supported by research as well as by various UK government and medical organisations
Chiropractic Treatment and Complementary Therapy
McTimoney Chiropractic is a gentle yet effective whole body therapy which helps to reduce pain from a variety of joint problems. The treatment is suitable for people of all ages, with problems ranging from complex spinal and neck injuries to the pelvis, knees, shoulders, elbows, feet, hands and ribs.
The Clinic also offer cranial therapy, which is used to relieve pain associated with migraines, headaches, sinus and jaw problems.
In addition, Bruce's experience as a teacher of physical education and a former international athlete means that he is ideally placed to treat sports injuries.   He takes a holistic approach to your wellbeing and offers a full package of care including professional advice on exercise, lifestyle and activity.
What's the next step?
Your first visit with Bruce will be an initial assessment, where he will discuss your general health and medical history. He will also carry out a physical examination including orthopaedic and neurological tests to identify the source of your pain and, if needed, decide on a course of treatment.
Bruce will fully explain your diagnosis and the treatment options available to you. The number of sessions you require will depend entirely on the type and severity of your symptoms.
For more information or to book an appointment with Bruce please contact Oak Lodge Chiropractic Clinic on 01432 291063 / 01989 740325 or click here to email us
Also available at the Hereford Centre for Natural Health in Belmont, Hereford on 01432 279653
Contact Us

Oak Lodge Chiropractic Clinic
How Caple
Hereford
Herefordshire

HR1 4RS

find us here

follow us

This is a live stream from Twitter - not the voice of thebestof!