Oneway School Of Motoring
about us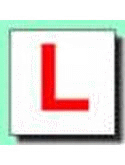 Established Driving School Oneway School Of Motoring in Romford, Havering
Terry Budge of Oneway School Of Motoring (A.D.I Advanced Driving Instuctor) runs a professional and fully qualified driving School based in Romford, Havering.
---
Non Smoking Driving Instructor
---

If you are looking for a calm, patient and professional driving School in the Romford, Havering areas then Oneway School Of Motoring offers the following services:
Excellent pass rate
Competative Prices
Full hour lessons
Door to door service - Home, College or work
Test booked by instructor
Theory test booked by customer
Constructive help with theory
One-to-one tuition - No piggy backing 
Pass plus registered driving instructor
Motorway Driving
Night Driving
Dual Carriageway Driving
Discounted rates for block booking
Non smoking driving instructor
....to name a few
---
Introduce a friend and after 5 driving lessons you will get one free.
---

Learning to drive could not be easier with Oneway School Of Motoring - one of the best driving schools in Romford, Havering.
On the day of your test Terry will ensure you are fully prepared for passing.  As part of his commitment, you will receive a intensive 90 minute driving lesson to perfect any manoeuvres that you maybe unsure of.
---
When Contacting Terry please mention The Best Of Havering
© www.thebestof.co.uk/havering
---
When choosing a driving instructor be sure to call Oneway School Of Motoring in Romford, Havering
---
Contact Us

33 Jutsums Lane
Romford
Essex
RM7 9HH