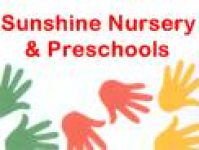 Sunshine Nursery & Preschool Ltd
Cordier Hill
St Peter Port
Guernsey
GY1 1JL
T:
01481 720063
M:
07781 154927
about us

Sunshine Nursery School and Pre-school Ltd offer fun playgroup and pre-school education, as well as an established nursery for children from 0 to 5 years.
---
1 Nursery & 1 Preschool
One guarantee of qualified childcare
---
Sunshine Nursery & Preschool Ltd was established in Guernsey over 20 years ago by Proprietor, Rachael Hockey SRN. Rachael trained as a nurse in England and moved to live and work in Guernsey in 1977 in the hospital's 'intensive care unit' .

As a working mother with two young daughters, Rachael knew exactly what she wanted from nursery education and with adequate nursery schools thin on the ground in those days, Rachael set about taking the necessary qualifications and set up her own nursery and pre-school.
The rest, as they say, is history!
Sunshine Nursery & Pre-school Ltd operates a dedicated nursery school for children under two from Cordier Hill where the Pre-school is also based.
---
Sunshine Nursery & Preschool Ltd
Mission Statement
"To provide a safe, secure and happy environment for your child to develop his or her social and educational skills to their full potential at their own pace."
---
We ensure that our nursery school and preschool offer a spacious, safe, child friendly, and, above all, stimulating environment with all the facilities necessary to provide your children with the very best nursery education on the island.
---
At Sunshine Nursery School & Preschool Ltd we have designed and implemented our own special curriculum which is based on the Early Learning Goals used by Guernsey & UK infant schools.
This has enabled us to develop an extremely good working relationship with all the infant schools in Guernsey, making the transition from nursery education much easier when the time comes for your child to leave Sunshine.
---
We recognise every child as an individual and so mutual respect between staff and children is one of our highest priorities.
---
Situated in the centre of St Peter Port, Guernsey, Cordier Hill accommodates 60 children between the ages of six weeks to five years.
With full facilities including secure nurseries, cots and play areas, we can also provide for up to 12 babies.
This modern building was previously an infant school and has thus been ideal to transform to a pre-school and nursery school. It has large, light and spacious rooms, safety flooring and outside play areas.
---

Tel: 720063 - Open all year 8am-5:30pm
Manager - Mrs Mandy Easden
---
For further information on
Sunshine Nursery and Preschool
contact Rachael Hockey
on 07781 154927
---
Please mention
The Best of Guernsey
When you contact
Sunshine Nursery & Preschool Ltd


---
Sunshine Nursery & Preschool Ltd - Guernsey
Nursery Schools
Playgroups and Pre-School