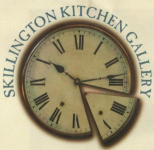 Skillington Kitchen Gallery
Duffins Barn
Grantham Road
Skillington
Lincs
NG33 5HG
T:
01476 862153
M:
07877 727177
about us
Beautiful Kitchen Design - Grantham
---
Kitchen Design by Skillington Kitchen Gallery
Free Standing, bespoke Kitchens in hardwoods and hand painted Farrow and Ball finishes
Kitchen Design for Grantham and surrounding areas
Skillington Kitchen Gallery in Grantham are teaming up with retail partner Venture in Nottingham. Venture in Nottingham gift every customer that purchases from Skillington Kitchens £300 worth of beautiful artwork. Terms and conditions apply.
Skillington Kitchens are exhibiting at Belton and Badminton Horse Trials
WHAT WE OFFER
Quality bespoke Kitchens, Bedrooms, Bathrooms, Dinning, Sitting and Other Furniture
Finished in a wide range of colours and wax varnishes
Handmade and painted to your own specific requirements
Locally sourced materials
Family run customer focused business with low overheads to give the customer true value for money

MEET THE STAFF
Peter Selby
Company Owner, Furniture Designer & Carpenter
Peter was born in Skillington and has a massive amount of experience in carpentry and furniture design. He is absolutely committed to achieving high standards of work through communication with the clients and helping achieve total satisfaction on the finished product
Peter is a member of the local Irish band Ruff n Ready where he plays Guitar, Washboard and Vocals, he also enjoys spending time with his falconry & family. You can contact Peter directly on 07877 727177

Andrew Welbourn
Carpenter, Supervisor & Quality Control
Andrew has a great deal of experience with the finished product as well as taking part at exhibitions and trade stands. Andrew believes customer service & satisfaction is the most important factor in business these days and feels that Skillington Kitchen Gallery lends itself to this aspect confidently
Andrew is a member of the local Irish Band Ruff n Ready where he plays Guitar, Banjo and Vocals. Andrew also enjoys walking his two dogs, Pocket and Cesc

Jo Selby
Sales Account Manager, Relationship Manager & Administrator
Jo is Peter's daughter and Andrew's partner
Jo is responsible for Sales & Marketing, Customer Relationships, Trade Stands & Exhibitions and all Administration. Jo shares Andrew's view on customer service & satisfaction and feels that Skillington Kitchen Gallery is efficient, manageable, interested and dedicated to their clients. She believes that communication, hard work & an open mind is key to a successful business and a happy life
Jo is the Band Manager for the Irish Band Ruff n Ready and enjoys Eventing horses and music

Pictures attached are some of our samples

Please feel free to contact us for a free Design & Quote
Office 01476862153 sales mobile 07877 727177 and the email as sales@skillingtonkitchengallery.com
Please check our events page on Best of Grantham and our website for future Exhibitions and Trade Stand entries