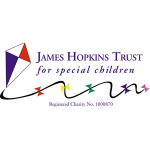 The James Hopkins Trust
Kites Corner
North Upton Lane
Gloucester
Gloucestershire
GL4 3TR
T:
01452 612216
F:
01452 613688
about us

The James Hopkins Trust ... there for the people of Gloucester and their nursing needs ...

The James Hopkins Trust is a charity which provides practical help for severely disabled, life threatened and life limited young children with nursing needs, aged 5 years and under, throughout Gloucester and Gloucestershire.

James Hopkins was born in Gloucester Royal Hospital on the 17th of September 1987, but his life was cut tragically short and he died on the 29th May 1989 from an infection.

James' life may have been short but it was not without purpose. The Trust was born out of James' memory and became a registered charity (No. 1000870) on 11th November 1990.


Over the years The James Hopkins Trust has helped over 300 children and families, with their charitable organisation in every corner of Gloucester and beyond, with over 100,000 hours of nursing and care. All of these nursing hours are donated free to those that needed it.


The aim of the Trust is to help severely disabled, life threatened and life limited young children aged 0 - 5 years in Gloucester and throughout Gloucestershire, so that the quality of their lives may be enriched.



The Trust's aims are …

The provision of domiciliary and residential respite nursing care
The provision of equipment specially adapted to the needs of the individual child
The provision of financial help for visits to specialist hospitals outside Gloucestershire


The James Hopkins Trust, like all worthwhile Gloucester charities, are always looking for donations and sponsors for their local charitable organisation.


Contact Vance Hopkins
on
01452 612216

Please visit the website ...
CLICK HERE

Perhaps you would like to make a donation to the Trust or maybe help with Fundraising?
Please mention thebestof Gloucester when contacting The James Hopkins Trust.
Thank You.