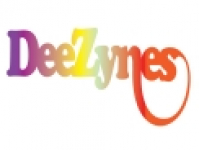 Deezynes
Acacia Building
Vantage Business Village
Micheldean
Glos
GL17 0AF
T:
01594 545884
M:
07769 268190
about us

Machine Embroidery and Fabric Printing in the Forest of Dean
Deezynes who are based in the Forest of Dean are Embroidery and Fabric Printing Specailists who are highly experienced in applying their skills to all types of clothing as well as gifts and personal items. Deezynes are renowned for both the quality of their work and eye for detail, they also take great pride in seeing what they create actually working for their clients.
Embroidery is still the most popular method of personalising clothing items and can involve the creation or replication of logos, badges and of course text, this is undertaken by sophisicated machines that effectively turn the pixels in the artwork into embroidery.

Examples of the type of items Deezynes personalise and enhance:
Work Wear
School Uniforms
Sports Wear
Fashion Items
Baby Ware
Accessories
Promotional Items
Wedding Gifts and Accessories
Equestrian Items
Pet related items
and much more ....
If required or more approprite, similar results can be achieved by way of fabric printing.To be honest it is difficult to imagine an application that this company connot help you with, to quote the owner Dee Screen: "If it's remotely possible we will do do it"
Deezynes are able to supply the actual product or item as part of the service but are equally prepared to work on those produced or owned by the client:

Only quality thread and materials are used, this coupled with a high level of quality control ensures an outcome to be proud of.
Deezynes are are always happy to produce a one off bespoke item or indeed more significant volumes for perhaps promotional or sporting applications.
In addition they can work from what might be just an idea or rough sketch and as a result can help you develope a new logo, badge or brand item from stratch.
They always produce a sample for your approval before moving ahead and are renowned for their competitive pricing.

So whatever your needs or if you simply want to discuss or ideas and thoughts give Deezynes a call, you will be in safe hands.
Please mention the Best Of the Forest of Dean when making contact - Thank You