Pandemonia Studios
about us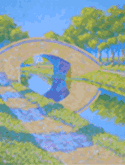 The artists at Folkestone's Pandemonia Studios combine to generate an exciting contemporary gallery.
Pandemonia Studios are located close to Folkestone and the artists combine to produce a vibrant creative studio exhibiting a fusion of modern and traditional art work.
Glyn Brawn and Coral de Anne are the two established artists who's art works combine to generate an exciting contemporary gallery, Pandemonia Studios, which can be found at Sellindge, nr Folkestone. Glyn and Coral produce art in a variety of styles, from impressionist landscapes to modern abstract art. These artists use the best quality paints on premium cotton canvas over traditional wooden stretchers.
When Glyn and Coral produce their art work they believe in having fun. As a result they'll squidge oil paint on with old socks, drop pure pigment from a ladder, or even blast acrylic paint onto the canvas with explosives. This means that the art work produced by these artists is contemporary and unique.
Pandemonia Studios of Sellindge, nr Folkestone also create external art work, traditional lead fountains, statuary and garden planters. All the art work is designed and handcrafted by these artists using traditional sand casting methods. No art work is mass produced by the artists at Pandemonia Studios and you can commission your own individual leadwork art pieces incorporating bronze, copper, stainless steel, hand blown or stained glass, for your Folkestone home.
The digital art work produced by Pandemonia Studios ranges from limited edition photographs that have been edited to portray dark fantasies and other states of being (Artist Coral's speciality as Glyn says she is twisted in the head!) to vector based drawings that show the world in clarity and precision (Artist Glyn's speciality because he is not!).
Sculpture art work is also created by Pandemonia Studios at their studio nr Folkestone, and this art work alternates between classically inspired art to contemporary art works. The artists use a wide variety of materials, plaster and resins, fibre glass and cast metals to create an amalgam of artistic concept and a sensitivity to the material that allows each piece of art work to have its own voice.
You can see examples of the art work produced by the artists at Pandemonia Studios by logging onto their website through the link above. When you arrive at the home page you will see that you are looking at the artists' online gallery, an art gallery with a difference. The artists at Pandemonia Studios want to express their work ethos, that although taking their business seriously, creating art is exciting and fun.
---
For more details about Pandemonia Studios visit their website or give the artists, Glyn and Coral, a call on
Folkestone (01303) 813271
---
When you contact the artists at Pandemonia Studios please mention
The Best of Folkestone
Contact Us

14 The Cedars
Sellindge
Nr Folkestone
Kent