AVN Picktree Ltd.
(

51

reviews)
about us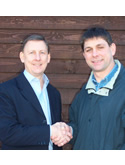 Want to GROW your business and increase your profits? AVN Picktree, Accountants of Farnham, want to help you do it.
Do you want to G R O W your business?
With offices in Farnham and Liphook, Chartered Accountants AVN Picktree are founder members of the Added Value Network and the PROBIZ Network.
We do all the usual stuff that businesses in Farnham would expect from good Chartered Accountants - accounts, tax, payroll, book-keeping, all accountancy services - and MORE - and everything we do is covered by 100% no - nonsense guarantee.
It is our mission to help customers improve their profits, manage their accounts, enjoy their businesses more, pay as little tax as legally possible and meet their personal, business & accounting goals.
Headed by Chartered Accountant Rick Peet, who has extensive experience in providing accountancy services to Owner Managed Businesses, (including 12 years as Financial Director of a manufacturing group) the AVN Picktree Chartered Accountancy Team is here to help you.
Our ideal customers are the Owners of Owner Managed Businesses with the ambition to G R O W their sales and profits, and enjoy their businesses and their lives more. Allow us to take great care of your Accountancy needs.
---
 Our customers expect and get:
Agreed levels of accountancy services at an agreed price which is fixed in advance of work starting - so no nasty surprises when you come to pay!

No extra charges for phone calls - phone as often as you like - we are your Accountants and will be pleased to hear from you.

Professional, courteous and personal accountancy services.

Business Development Support in getting their businesses from where they are now to where they want them to be.

A Cast Iron No Risk Guarantee - If you don't believe that we have provided the accountancy services we promised, then you can decide to pay what the work was worth to you, if anything.

 

---


Of course, our first meeting will be FREE
of charge, so let us show you the
Great Accountancy Services we can provide.
 What have you got to lose?
Please ring Rick Peet (Chartered Accountant)
on Farnham (01252) 710333.
Please mention The Best of Farnham when you make contact.
Contact Us

Picktree House
The Barn
Tilford Road
Farnham
Surrey
GU9 8HU

find us here

our videos

our audio

follow us

This is a live stream from Twitter - not the voice of thebestof!

rickpicktree:

Chancellor says: 30% of Income Tax is paid by just 1% of taxpayers. #Farnham

2 hours ago

rickpicktree:

There will be an increase in the state pension age to 68 in the mid 2030s and to 69 in the late 2040s #Farnham #Guildford

2 hours ago

rickpicktree:

State Pension set to rise by £2.95 per week from next April #Farnham

2 hours ago

rickpicktree:

Chancellor states tax and spending measures will be neutral ... as expected #Farnham

2 hours ago

rickpicktree:

Chancellor states OBR forecasting growth this year of 1.4% and 2.4% next year - on course for recovery. #Farnham

2 hours ago

find us on facebook

thebestof awards