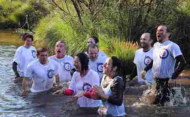 Date:
06/09/2014
Now in its 24th year the Challenge has been described by the Daily Telegraph as "one of the Top 25 events you must do before you die".

Date: 06/09/2014
Team Charity Events - Get Down & Dirty, 6th & 7th September 2014

Date: 10/08/2014
and this time it's inflatable! Same great weather, same great location but this time with more bigness.