Emslie Bird Ltd
(

37

reviews)
about us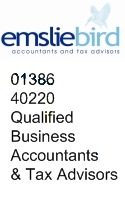 Evesham Tax Advisors with a personal approach to your personal and commercial tax liabilities. The right advice can save future problems
Emslie Bird Ltd
Tax advisors based in Evesham
---
---
---
When you consider the tax liabilities of your business or simply need to look at your personal tax situation then you need an experienced tax adviser. Emslie Bird Ltd are a local firm of accountants specialising in providing qualified tax advice to businesses and individuals whether in Evesham or further afield.
 Emslie Bird Ltd, for expert Tax Advice.

When running a business you need the best tax advice available to ensure that you pay the correct level of  tax  and make full use of the  tax allowances and reliefs offered by HMRC. With each budget bringing in new tax legislation and rules you need to have up-to-date and professional tax advice. This is where Evesham based Emslie Bird will help, we are tax advisers that give clear, concise and professional tax advice that benefits your Vale of Evesham business.

If you are thinking of starting a business in or around Evesham then the best time to seek tax advice is before you start. You can then make the right choices for you and your business to help keep your tax liabilities to a minimum during the important first years.

Emslie Bird Ltd- Personal Tax Advisors
Evesham based Emslie Bird provide tax advice and compliance  for individuals covering areas such as Income Tax, Property, Capital Gains, PAYE and the use of Pensions as a tax planning tool. Planning is so important- take our expert advice.
There are many ways an Individual can utilise tax advice from us to ensure long term wealth and avoid unnecessary tax liabilities. Good tax advice during your business career when earnings are at their peak can translate into a comfortable financial future for you and your family.

Tax advisors Emslie Bird in Evesham are ready to discuss your business tax or individual tax needs.
Simply call Paul Bird on
Evesham 40220
---
ACCOUNTS - TAX RETURNS - ADVICE
for these and other services, read on!
---
Emslie Bird Ltd is a Financial Accountant practice located in Vine Mews, Evesham. We have a wealth of experience and specialise in providing tailored accountancy and tax compliance service to small and medium sized business'
---
---
Whether you are just starting out in your first business in the Evesham area, or beyond, or well established and need to make changes we can offer a cost effective solution for your accounting and tax problems. Whether you need some help filling in your Tax Return or have complex accounting issues we can help.
We are small enough to offer a personal accounting service so that you always know the people looking after you and your business but also experienced enough to have the answers. We offer the comprehensive range of accounts services that you would expect from a firm of experienced Accountants and deliver them in a friendly, approachable manner, with minimum jargon and maximum emphasis on client care and service.
We believe that our "no nonsense" approach to accounts and level of service are the qualities that have lead so many small and medium sized business to choose us as their Accountant and recommend us to their friends and colleagues both in Evesham area, and beyond.
We would welcome the opportunity to chat with you over coffee in our Evesham offices to discuss how we could work together to support and develop your business.
Visit our website where you can find out more about Emslie Bird Ltd
Adjacent to the town centre at Evesham and alongside one of Eveshams largest car parks we are easy to find.
Remember to mention the Best of Evesham when calling this Evesham accountant on Evesham 40220
The Best of Evesham Accountancy Services and Accountants
---
Let Paul know that you found him under Tax Advisors on The Best of Evesham website,the award winning website run by Evesham people.
Contact Us

19 VINE MEWS
VINE STREET
EVESHAM
WORCS
WR11 4RE

thebestof awards