Yoga Classes with Clare
(

6

reviews)
about us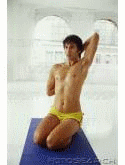 Try Clare's Yoga classes in Enfield for a fun way to de-stress and stay healthy.
<?xml version="1.0"?>
Yoga Classes
with Clare Skeggs
at The Dance Studio
843-845 Green Lanes, Winchmore Hill, London N21 2RX
London Borough of Enfield
Tuesday evenings: 7.00pm - 8.30pm
Sunday mornings: 11.00am - 12.30pm
New! - starts 4th June 2010
Friday mornings: 10.30am - 12.00 noon
Session £9.00
Many people are taking 'time out' to practice yoga to help cope with the challenges of everyday life, as our lifestyles become increasingly more hectic and demanding.
Yoga has been practised for many centuries as a means of calming the nervous system and balancing the mind, body and spirit using a combination of breathing exercises, physical postures and meditation.
Yoga is also a wonderful way to reduce stress. Yoga is rejuvenating, promoting regeneration of the body tissues and accelerating healing. The immune system is boosted and the
body gradually de-toxes, also creating a fitter, toned and healthy body.
Yoga can also help with weight loss as well as stabilizing the body's metabolism and hormonal functions.
I am Clare Skeggs
based in Enfield and many Enfield Borough residents come to my enlightening and enjoyable classes.
I began practising yoga in 2001 in my local gym. The style was called Bikram, which I enjoyed as it felt like a vigorous workout and as my past experience in sport was Athletics, I could relate to certain aspects and I enjoyed the focus.
My British School of Yoga qualification taught me postures, anatomy, physiology & philosophy. With the added benefit of my Insurance and First Aid certificates, I took up Yoga teaching, which gives me tremendous job satisfaction. In 2005 I completed an intensive 3-month course, which gave me a greater depth of knowledge of Yoga and also how to create flowing exercise sequences combined with balancing postures.
Apart from all the benefits that Yoga brings, I love the different types of people that Yoga brings together.
I cater for all fitness levels and encourage each individual to work at their own level.
To book your place
or to find out more about Yoga classes
call Clare on:
07951 281 722
---
Please mention The Best Of Enfield when contacting the Advertiser regarding Yoga classes in Enfield.
Contact Us

The Dance Studio
843-845 Green Lanes
Winchmore Hill
London
N21 2RX

our audio