Silent Echo Photography
about us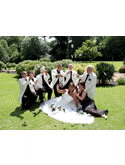 Silent Echo Photography - Wedding and Portrait Photographers based in Enfield Borough. For portrait, wedding and other special event photography. Images are silent but echo through time.
Silent Echo Photography
Enfield based Wedding & Portrait Photographers
Silent Echo Photography is a fully digital photographic company, based in Enfield, offering you total flexibility combined with a personal touch.
I am a professional wedding photographer, working in the wedding & portrait photographer field for some years, coming from a family of wedding photographers.  Both my parents and sister work as wedding & portrait photographers and have done so for over 40 and 18 years respectively.  I have had the opportunity and privilege of being classically trained in the art of wedding photography by some of the best wedding photographers in Europe. 
Your wedding photography will be tailored to your individual requirements, but most couples like groups of the most important people, some quiet moments with just the two of you and then the reportage wedding photograph style to capture the fun and the full gambit of emotions that will make your wedding totally unique.
All this ensures that your wedding photography is as enjoyable for you as possible.
All meetings can take place in the comfort of your own home, including a meeting the week before your wedding to finalise all those last minute photographic details and discuss your special wedding photograph requirements. 
There are a variety of wedding photograph packages available to suit most couples, but a tailor made wedding photograph package can be arranged if none of them meets your individual requirements.
Call Joel, Enfield based wedding photographer for all your wedding photograph requirements.
-------------------------------------------------
Please mention  The Best Of Enfield  when responding to this advertisement regarding wedding & portrait photographers in The London Borough Of Enfield
Contact Us

our audio

thebestof awards