about us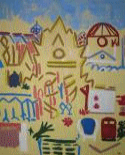 Shirley Maher, Artist and Illustrator, based in Enfield, offers art tuition to adults and children from age 5 upwards.
Shirley Maher
Enfield-based Artist, Illustrator and Art Tutor
gives private tuition for Art lessons and classes in Enfield
Shirley Maher is an Art Teacher, Artist and Illustrator, who works with pencils and pastel. Shirley is very versatile and can work with both realism and abstract art, getting many of her ideas from views of London. Shirley also works in oils and water colour art.
Living in Enfield, Shirley's work ranges from abstract to figurative. She undertakes art commissions in painting, drawing and mural art and teaching art.
Art tuition
Do you need help with your children's art exams or homework? It could be GCSEs, A-Levels or maybe learning to draw and paint in oils and water colours.
Have private tuition lessons with an experienced art tutor with many years' experience in helping students through their art exams.
Shirley is a trained tutor and artist. All are welcome for lessons at her Enfield studio for private tuition, whether individuals or small groups, from children aged 5 or more through to adults at all learning levels.
Pedigree
Shirley's pedigree includes:-
Solo exhibitions of prints and paintings
Solo exhibitions of French landscapes
Art teacher for primary/secondary school pupils in London and Oxford
Teacher of painting & textiles, Westminster College, Oxford
Southwark College, Diploma in Art & Design and Mural Design
Chelsea School of Art & Design - trained as Illustrator/Painter
Murals
Shirley also specialises in children's bedroom murals, using acrylic paints and pigment mixed with acrylic to achieve a bright, warm look to the room. She has received many commissions for her paintings and murals both in Enfield and further afield.
Contact Enfield's Shirley Maher, Art Tutor, Artist & Illustrator for private tuition classes in art or for murals for the home or elsewhere.
07886 946376
or e-mail me using the link near the top of this Feature.
---
Please mention  The Best Of Enfield  when contacting the advertiser about art, private tuition, art lessons or murals in Enfield Borough.
Contact Us

136 Mandeville Road
Enfield
Middx
EN3 6SQ