MCP Spanish Tuition
(

3

reviews)
about us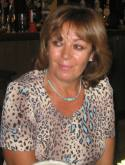 Are you looking for Spanish language tuition for the fun of it? Do you need any help with Spanish GCSE or A-Levels in the Enfield area? Don't panic!
<?xml version="1.0"?>
Do you want to learn or improve your Spanish with language tuition?
Whether it's for GCSEs, A-Levels or purely for holiday use, you'll love Maria Carmen's relaxed and happy language lessons in Enfield.
Hello, I am Maria Carmen and I live in the Borough of Enfield.
I am Spanish and have worked at a local secondary school in the Borough of Enfield for the past 11 years.
During the whole of this time I have also run a lunch-time language tuition'Spanish Club' for pupils wishing to learn or improve their knowledge of the Spanish language.
I give private language tuition after school hours and have helped many pupils to achieve high grades (many have over-achieved against predicted grades).
I also give language tuition lessons to adults (who perhaps holiday or own property in Spain) and younger children in the Enfield area from about 5 years old.
Call Maria Carmen to find out more about her language lessons in Enfield.
020 8367 9558 or 07890 054071
Contact Us

15 Merryhills Drive
Oakwood
Enfield
Middx
EN2 7NS

our audio