Elisana Florist
(

6

reviews)
about us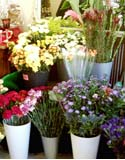 Elisana Florists are able to provide beautiful and imaginative flower displays for any occasion in or around Enfield Borough.
Elisana Florist
Arranging stunning floral displays for Enfield customers
Our flowers are stored in a temperature controlled cold-room to preserve their freshness
Elisana Florists is one of the most imaginative florists catering for customers' needs in and near Enfield. If you are looking for absolutely top quality florists to delivering wonderful bouquets, floral displays and tributes in and around the Enfield borough – all at affordable prices – look no further because this is exactly what we do.
You can order your floral request by phone or why not send us an email – tell us your requirements and we will take care of the rest.
Alternatively, please do come and visit our florists shop just in case there is anything that tickles your fancy. We always have a fantastic selection of floral arrangements and bouquets to fit your hearts' desires.
Call Elisana Florists on
0208 888 4777
or email us using the link at the top of this advertisement.
Or visit our website – www.elisanaflorist.co.uk
---
Please do mention The Best of Enfield when contacting the Advertiser regarding florists, bouquets, flowers or any kind of floral arrangement in Enfield Borough.
Business Category: Florists

Contact Us

10 Turnpike Lane Parade
Green Lanes
London

N15 3EA

thebestof awards