Universal Commercial Relocation
about us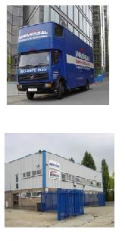 Ealing based highly recommended commercial removals company providing a high quality service to large corporations and small companies alike.
<?xml version="1.0"?>
Universal Commercial Relocation Ltd was set up over 30 years ago. It specialises in commercial removals and has a prestigious client list which includes major city banks, government organisations, top solicitor firms and a wide range of City, West End and local Ealing businesses. Universal Commercial Relocation Ltd has an excellent reputation and is highly recommended by its clients.
Universal Commercial Relocation Ltd is well known for its highly efficient, courteous and competent staff, its attention to detail and its ability to deliver a high quality service within a short timetable. The services offered include removal of computers and all IT systems from the old office to full connection at the new offices. This allows companies to move efficiently, within a short time scale and with minimum disruption to the business.
Universal Commercial Relocation Ltd is based in Greenford with easy access to Ealing, London and the M25. It can be used for a small office move or a major corporation relocation.
Its sister company ISS provides short or long term storage for archive storage or excess documents. These documents are securely stored in the company's dedicated document storage facility where they can be retrieved on a daily basis due to the company's highly efficient and secure computer systems.
Please call Universal Commercial Relocation Ltd now on 0208 575 1133.
---
Don't forget to mention the Best of Ealing when you contact Universal Commercial Relocation Ltd
The Best of Ealing - Featuring only the Best Businesses in Ealing
Contact Us

1C Lyon Trading Estate
Lyon Way
Greenford
Middlesex

UB6 0BN