The Spinnaker
about us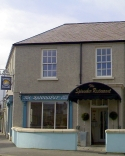 Just Outside Downpatrick, in Strangford, is The Spinnaker - a licensed Family Restaurant and Coffee House.
A Family Restaurant on thebestof Downpatrick
The Spinnaker in Strangford, Downpatrick, is a family-run restaurant which has a charming atmosphere and which boasts a mouth-watering lunch and evening menu.
---
You can enjoy a full cooked breakfast, lunch or evening meal at the Spinnaker and when the sun shines on Strangford and Downpatrick, you can enjoy your meal or coffee outside.
People are drawn to Strangford's natural harbour by its ambience and beauty; with local attractions such as Castleward, Exploris Aquarium and Downpatrick Cathedral close by, The Spinnaker is a fabulous rfamily estauant to eat in while you explore the area.
---
The Spinnaker serves particularly good steaks, local fish courses (including seafood chowder) and delicious home-made desserts. 
As a recently licensed restaurant, you are welcome to browse the wines menu for a bottle to accompany your meal.
Opening hours at The Spinnaker are:
Mon, Tues:   9am - 4pm

Wed, Thurs, Sun:   9am - 7.30 pm

Fri, Sat:   9am - 9.30 pm
---
This family restaurant is non-smoking, friendly and has a children's menu.
With seating for up to 50, The Spinnaker can host your function or special occasion meal with a menu designed to suit you.
---
Please contact Anne at The Spinnaker for full details of this Strangford Restaurant.
When you do,  please mention that you found The Spinnaker, in the family restaurant category on
thebestof Downpatrick.
Thank you.
Contact Us

4 Kildare Street
Strangford
Downpatrick
Co Down
BT30 8JU

thebestof awards