about us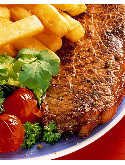 A fine village pub on the outskirts of Doncaster - serving excellent pub food in our welcoming restaurant
The Crooked Billet is steeped in history and is situated in the little village of Owston Ferry on the Isle of Axholme, Doncaster.
Owned and run by Lynne & Mark Mason
The pub & restaurant boasts an excellent reputation for superb traditionally cooked pub food and conditioned cask ales.
Situated on the Trent Bank, The Crooked Billet pub and restaurant is the perfect place to stop off and refresh yourself with a leisurely drink and a meal.
The Crooked Billet of Owston Ferry, Doncaster hosts many a speciality night of various cuisines to tickle anyones taste buds!   All of our pub food and restaurant meals are prepared with only the freshest ingredients.
Serving Food
Wednesday to Friday 5.30 - 7.30
Lunchtimes Friday and Saturday 12 noon till 2pm
special price - 2 meals for £8
Saturday Evenings are Bookings Only
Sunday 12.00 - 5.00
There is always a "Today's Special" this is changed accordingly. An example of whats on offer is below:
Sirloin Steak with Pepper or Red Wine Sauce
Country Chicken in Red Wine Sauce
Lamb Steak in a Mint Gravy
All served with seasonal vegetables or salad,mash or Billet chips
Lynne's salads are the best around, as are her famous Billet chips
Sunday is Roast Day
Serving Sunday Roast with The Joint of the day and all the trimmings.
If you prefer something other than a Roast, there is a fine selection to choose from, why not check out the "Specials of the Day" on the board.
Lynne and Mark  take a great deal of care and attention in presenting their dishes so that they are not only delicious but are also very pleasing to the eye.
If you are looking for a great location to stop off and have a relaxing drink with excellent pub food then pop into The Crooked Billet Public house and Restaurant in Owston Ferry, Doncaster and enjoy a warm friendly welcoming atmosphere.
---
The Crooked Billet hosts live music on Saturday nights, a popular evenings entertainment with the residents of this village and visitors alike.
Check out our events page on the site for more details on events happening at The Crooked Billet.
Lynne and Mark take great pride in offering 1st class service to all their customers and freshly prepared produce is served in all of their menu selections.
"We want our customers to come back, so it is important to us that they have received excellent pub food freshly prepared and served in a warm and welcoming atmosphere".
The Crooked Billet of Owston Ferry, Doncaster welcomes you to its warm comfortably furnished restaurant where you can enjoy your pub meal and sample some of the various wines served, or maybe have a beer. Whatever your choice of pub food you can be sure of good service and a welcoming smile.
To enquire about reserving your table please telephone Lynne or Mark on  01427 728264
A warm welcome awaits you at The Crooked Billet of Owston Ferry, Doncaster
Please mention the Best of Doncaster when enquiring about our pub, restaurant and superb pub food in Owsten Ferry Doncaster
The Crooked Billet Pub & Restaurant
Silver Street
Owston Ferry
Doncaster
Pub food at its best !!!
Contact Us

Silver Street
Owston Ferry
Doncaster

DN9 1AT