about us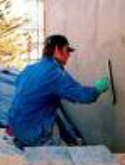 Professional plastering and Screeding throughout Doncaster
Doncaster Specialists in all aspects of Plastering and Screeding
Dan Bailey is a professional, reliable and friendly plasterer who takes a great deal of pride in all the plastering and screeding work he undertakes.
D J Plasterers of  Doncaster
 plasterering and screeding carried out with the very minimal disruption. We alway tidy up at the end of the working day.
A wide range of plastering and screeding work is undertaken including :-
Skimming
Coving
Rendering
Plastering repair and patching
and all types of plastering and screeding
All internal & external work
---
Commercial plastering and screeding is also undertaken,  including :-
New builds
Renovation
Refurbishment
D J Plasterers for all your plastering and screeding needs in Doncaster
---
Please call
D J Plasterers on Doncaster
01302 830835
 for a free and no obligation quotation
We look forward to hearing from you
---
Please mention the best of Doncaster when enquiring about plastering and screeding in Doncaster
Contact Us