about us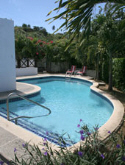 Leave Doncaster behind and enjoy a luxury holiday villa in Tobago
Enjoy a holiday villa on the unspoilt caribbean island of Tobago
Sunset Reef Villa
a little piece of Caribbean heaven - you will feel a million miles from Doncaster !!!
Tobago is one of the famous Caribbean islands that make up Trinidad and Tobago and is situated at the southern tip of the beautiful Caribbean Islands.
With unspoiled beaches, crystal clear waters, coral reefs, abundant exotic plant and wildlife, Tobago is the perfect place for those wishing to get away from it all and unwind on a truly  relaxing holiday. 
Sunset Reef Holiday Villa in Tobago is set only 150 metres from Grafton Beach and enjoys stunning sea views all to be enjoyed from the garden terrace.
Take your time over breakfast and watch the local fishermen bring in their catch - or relax over dinner and watch the stunning sunset fall on the turquoise waters.
Owned by local Doncaster couple Clive and Jayne - Sunset Reef Villa offers the finest in villa holiday accommodation in magical Caribbean Tobago
---
Sunset Reef Villa
If total relaxation is your aim - the Caribbean island of Tobago should be your goal.
Leave Doncaster behind and enjoy tranquil beaches, turquoise sea and a gentle unhurried pace of life that will leave you feeling totally refreshed and relaxed
 
Your holiday villa enjoys an enviable location and yet is only 20 minutes away from the airport and 20 minutes away from Tobago's capital, Scarborough
Your holiday accommodation at Sunset Reef holiday villa is sumptuous and includes :-
4 en-suite bedrooms, 2 double (1 King and 1 Queen) and 2 twin rooms, all air conditioned for your evening comfort.
Air conditioned cable TV room with sofa bed.
Fully fitted kitchen.
Poolside lounge leading through to the dining room with seating for 6 people.
Own private swimming pool.
Outside shower (red Telephone Box) and separate toilet.
Barbeque area.
Gazebo for outside eating for 8 people, complete with panoramic sea views.
Own maid 5 mornings per week.
Pool Maintenance.
 Gardener.
Parking for 4 cars.
CCTV security.
Car hire is available at very competitive rates
Private grounds.
For photos of inside and outside the viilla, plus the wonderful views and beaches, why not visit our gallery?
Just follow the link below and take a look at the holiday accommodation offerred by Sunset Reef holiday villa
http://www.tobagovilla.org/gallery.htm
---
At leisure in Tobago

For those who wish for a for a more active holiday then there are a host of activities at hand to keep you fully occupied 

Cycling - Plenty of on and off road cycling is available
Watersports - a variely of watersports including sailing and jet skiing are available for those who enjoy a more active holiday
Boat tours -  whether you want a sunset cruise or a glass bottomed boat to view the coral in the crystal clear waters, Tobago has it on offer
Horse Riding - Horse trekking and riding is available
Golf - Tobago has two superb golf courses available
Scuba diving & snorkelling - Tobago is one of the best scuba diving sports in the southeastern Caribbean, yet it has relatively few divers visiting its pristine coral reefs, volcanic formations and marine wrecks.
Sport Fishing - Chartering a sport fishing boat is exciting, rich pickings of Marlin, sale fish, Tuna and Dolphin (not flipper!) are caught year round
Wildlife - an abundance of flora, fauna and wild life make Tobago a nature lovers paradise
Check out the following link to discover more about what this tranquil Caribbean island has to offer 
---
Sunset Reef  holiday villa can sleep up to ten people in comfort so is ideal for larger groups or multiple familes looking to share villa holiday accommodation in Tobago.
Check out our website for more information about this beautiful holiday villa - you will be so glad you did !!!
or call Clive and Jane on
01777 817338
---
 Please mention the Best of Doncaster when enquiring about holiday accommodation at Sunset Reef Holiday Villa in Tobago
Found in the category holiday villa and holiday accommodation in Tobago
Villa Holiday - villa holiday accommodation - holiday accommodation in a holiday villa in Tobago
Contact Us

Driftwood Roe Lane
Everton
Doncaster
S.Yorkshire
DN10 5AZ