about us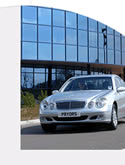 Pryors offers Prompt Reliable Airport Car Travel from the Didcot Area
<?xml version="1.0"?>
Pryors is a family run business that has been operating from Didcot since 1955 and covers the whole of the Thames Valley area. We offer a prompt, reliable and flexible service and can carry out your airport transfer in a luxurious, comfortable vehicle.
Pryors offers airport cars from Didcot and the surrounding area and the following:
35 E Class Mercedes
90 Uniformed Drivers
24 Hours a day
7 Days a Week
8 Seater Vehicles Available
3 Ways to Pay, Cash, Credit Card, Invoice
100% Licensed
All our airport cars are air conditioned, daily valeted, subject to regular Thames Valley Police inspections and operate a no smoking policy, making them the most comfortable and elegant way to travel on your airport transfer from the Didcot area.
We have various methods of booking an aiport car, such as email (bookings@pryors.co.uk), fax, through our website (www.pryors.co.uk) or by telephone. All bookings must be confirmed in writing.
Give us a call or send us an email to get a competitive quote on your next airport car from Didcot.
Please mention The Best of Didcot when contacting this company.
Contact Us

3 Mereland Road
Didcot
Oxon
OX11 8AP