about us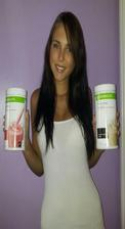 Herbalife is a great and effective way to lose weight, and it's well known for its success stories! There's only one Herbalife Coach to use and that's Laura. Laura will help you find the perfect Herbal Life programme for you and guide you through your weight loss, she has already got many happy customers and is passionate about helping people lose weight! Laura works in the Deal, Dover and Sandwich area.
<?xml version="1.0"?>
What do you have to lose?

Start Herbalife and take control of your figure! You can enjoy regular meetings with your Herbalife coach Laura for key nutrition and weight loss advice in a relaxed, fun environment.

Herbalife's bestselling Formula 1 product - a shake you take twice a day - is scientifically proven as an effective way to control and manage your weight, when combined with a healthy, active lifestyle. This versatile shake is made to suit you and your goals - whether you'd like to lose, maintain or gain body weight.

Take control of your life today with Herbalife. It is not just a diet but a healthy way to live.

Herbalife Products:

The most popular product is the Formular 1 shake, which you make by adding milk, soya or water. Its a tasty filling shake that comes in many flavours. You take the shake for two of your meals and then have a healthy meal for your remaining one.
Choose from these great flavours: Vanilla, Tropical Fruit, Chocolate, Cappuccino, Strawberry and Cookies & Cream!
It doesn't stop there as you can add fruits to your shakes to make your own new tasty flavours!
Though if you're prone to snacking don't worry as Herbalife have some delicious snacks for you to choose from too so you don't feel restricted and hungry, these are the gormet soup and the protein bars.
So if you live in the deal, Dover and Sandwich area and want to know more information on weight loss just call Laura on 07706308002
Maintain your weight with Herbalife:
Herbalife is a great way to maintain your weight, many people go on a diet just to put it all back on. With Herbalife Laura can help you stay on track and in great shape! You can maintain your weight by having one shake a day instead of breakfast, lunch or dinner.
So if you live in the deal, Dover and Sandwich area and want to know more information on maintaining a healthy weight just call Laura on 07706308002.

Gain Body Weight with Herbalife and Herbalife sport range:


For the health enthusiasts out there you can use the Herbalife24 this is designed for everyone - whether you're a gentle jogger, gym lover or an elite athlete, Herbalife24 has all the products you need to help you prepare, train and recover.
Herbalife doesn't just do weight loss/ weight gain products they also have a fab skin and hair care range. These are the products you can trust not to damage your skin or hair. Get body beautiful in no time with only the best natural products.
These include: Herbalife RADIANT C (Great for gicing you a lovely glow and taking care of dull, tired looking skin) Herbalife Body CONTOURING (Get smooth toned skin with out the risk of putting harsh chemicals into your skin, you'll have a buffed and beautiful body in no time!) For YOUNGER LOOKING skin try Herbalife skin Activator and for your every day beauty reigeme there is Herbalife Nourifusion Range (Celense, tone, Moisturise and scrub! No matter your skin type there will be a great product for you)

If you live in the deal, Dover and Sandwich area and want for a free consultation just call Laura on 07706308002
Contact Us