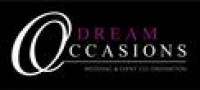 Dream Occasions
7 Churchfield Road
Coggeshall
Colchester
Essex
CO6 1QE
T:
01376 561 544
about us

Colchester's Dream Occasions have a wealth of experience and unrivalled knowledge of suppliers and venues in London and East Anglia, to make your Weddings, party or social function stress free and an event to be remembered.
Dream Occasions
Wedding Supplies - Corporate Entertaining and Event Organising

---
A nationally recognised expert in wedding co-ordination, Bernadette Chapman founded Dream Occasions providing a full range of wedding supplies and services. Since 2002 she has successfully extended her expertise into the wider fields of corporate entertainment and Event Organisation. Should you require relief from organisational stress or have problems with time scheduling then Dream Occasions are the answer to your prayers. They give you the chance to really enjoy your own party.
As wedding planners their spread of beautiful weddings can suit all budgets; from simple wedding day management to the Ultimate design and wedding co-ordination. Dream Occasions provide friendly, uncomplicated wedding services that allow you to relax and really enjoy that special day. Be it in marquee or country manor, a castle or ancient barn, Dream Occasions will create a day you, your family and your friends will cherish for years to come.
Having expanded their activities into all aspects of corporate entertainment, Dream Occasions business entertaining not only includes: -
Company milestone celebrations
Client and customer hospitality
Thank-you parties
But also
Training Days
Pampering breaks
Endurance away days
Bonding weekends
By using Dream Occasions that special celebration or corporate hospitality is no longer a headache but something to be enjoyed.
Organising a hospitality event, even a small one, benefits from professional guidance. Dream Occasions has put skill and expertise into many events such as: -
Anniversaries
Birthday parties
Summer Balls
Dinner parties
Barbeques and Lunches
Christmas parties
Dream Occasions are budget conscious and due to their professional experience both people and companies have found they have spent less on hospitality and entertainment yet the pleasure of everyone was enhanced.
Contact Bernadette at Dream Occasions and let them take on your burden of stress and time management as either your wedding planners, for event organising or for business entertaining.


---
Dream Occasions
7 Churchfield Road
Coggeshall
Colchester
Essex CO6 1QE

Telephone 01376 561544


---
Please mention that you found them on The Best of Colchester.

@ The Best of Colchester Ltd '€" wedding supplies and services, corporate entertaining, event organising - Colchester
find us here

follow us

find us on facebook