Barfield & Co Accountants
about us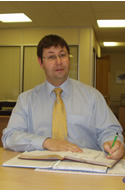 Certified Public Accountants Providing Services for Sole Traders, Limited Companies and Partnerships in Christchurch and the Surrounding Areas.
Certified Public Accountants
 Serving Christchurch
Andrew Barfield and his team of qualified accountants understand the accountancy needs of small businesses in the Christchurch area.
"Most of our business comes from referrals, if you're looking for clear accountancy advice on a small business issue we can help and tell you what's best for you!" 
Our Aim
 To exceed the expectations of our clients, communicating all accountancy related matters in a clear and straightforward way.
---
A New Business Venture?
Perhaps you are about to take the leap and begin working for yourself, you may need the advice of a local accountancy service serving Christchurch.
Already in  Business?
A successful and thriving business can often mean that striking the balance between growing your profits and taking care of your accounts is difficult to achieve. 
The Solution.
Speak to us at Barfield & Co. Accountants. 
Our free initial consultation means you'll have nothing to lose and everything to gain!
With a comprehensive range of accountancy services you can have complete peace of mind that your business finanances and accounts are in safe hands leaving you free to:
Concentrate on Growing your Business!
---
We specialise in the following areas of accounting:
Annual Accounts
Company Accounts
Payroll Accounting
Book-Keeping / Management Accounts
V.A.T Accounts
P.A.Y.E Accounts
Business Startup
---
Call today to arrange your free initial consultation on:
Christchurch (01202) 417461
or email us using the link at the top of the page.
Barfield & Co. Certified Public Accountants
Certified Public Accountants for Christchurch and the surrounding area. 
Please mention thebestof Christchurch when you call.
Contact Us

141 Parkwood Road
Southbourne
Bournemouth
Dorset
BH5 2BT

our audio