Simply Thai
about us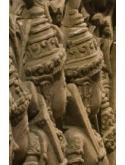 Simply Thai - Award winning Thai Restaurant in Buxton
Simply Thai Restaurant in Buxton
 <?xml:namespace prefix = o ns = "urn:schemas-microsoft-com:office:office" />
If you are a Thai food connoisseur then you will be delighted to know that Buxton is home to award-winning Simply Thai Restaurant.  The prestigious Thai Select Award is a great honour for a Thai restaurant, and is your guarantee that in Buxton you are dining on authentic ingredients - hints of coriander, coconut, fish sauce and lemon grass blended into a delicious and beautifully presented selection of Thai food.  
Authentic Thai food
At Simply Thai Restaurant in Buxton you will find authentic Thai food.  The chefs, who have worked in some of Thailand's finest restaurants, have created a superb menu from ingredients sourced where possible from Thailand and use authentic methods of preparation.  
For those contemplating trying Thai food for the first time Simply Thai in Buxton has a leaflet explaining the background to a Thai meal.  Each member of staff is delighted to talk about the food and the menu is very helpful, telling a little about each dish with an indication of how hot and spicy it is.  The menu at Simply Thai includes delicate and tasty starters all, as is the Thai tradition, exquisitely presented.  The main courses include plenty of Thai curries, stir-fried dishes of chicken, pork, beef and duck and a fabulous selection of seafood dishes.  There is a section of grilled and steamed Thai meals and plenty of choices for vegetarian diners.  New dishes are regularly added to the menu; look out for a new Thai Green Curry and a Yellow Curry. 
Lunch, pre-theatre and dinner menus
Thai food includes lots of light and fresh choices, making a Thai meal an ideal choice for lunch or pre-theatre.  Simply Thai Restaurant in Buxton offers an Express lunch menu with main courses at £5.50 or a set menu for only £8.50. 
Classic ambience
Staff at Simply Thai take care that their service is attentive but not overbearing.  The surroundings are gorgeous, with dark wood, perfect lighting and soothing music to create a tranquil environment in which to enjoy an authentic Thai meal in Buxton. 
Since opening Simply Thai, owners Iain and Mim have been overwhelmed by the wonderful comments from diners who live and work in the Buxton area.  They also feel deeply honoured that their Buxton restaurant is one of very few outside London to receive the Thai Select Award from the Thailand Ministry of Commerce
---
Please mention the Best of Buxton when calling Simply Thai Restaurant in Buxton.  Thank you
Contact Us

2 -3 Cavendish Circus
Buxton
Derbyshire

SK17 6AT

thebestof awards