about us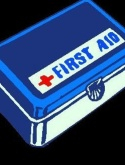 For high quality first aid training for your business, you need Buxton based Kiss of Life.
For high quality first aid training for your business, you need Buxton based Kiss of Life.<?xml:namespace prefix = o ns = "urn:schemas-microsoft-com:office:office" />
It is a legal requirement for all businesses to have trained first aid staff. However, although this is a necessity, the first aid course does not have to be a chore. All you have to do is book onto a course with Kiss of Life.
Based in Buxton, Managing Director Brenda Stafford has several years of first aid experience and has worked with High Peak Community Housing, the National Grid, High Peak CVS and Age Concern. Kiss of Life was set up to provide high quality, interesting and interactive first aid courses for businesses, as well as providing public courses if required.
Kiss of Life's courses can be adapted to suit the individual business premises and staff. What is relevant to a construction site in the High Peak is very different to the needs of an office-based business in Buxton and Brenda is skilled in varying the course element to fit your specific need. Flexible training is also offered to businesses that have varied work patterns i.e. shift work.
Courses include:
First Aid at Work

Refresher Courses and Appointed Persons

Emergency First Aid

First Aid for Child Carers and Families
Health and Safety guidelines regulations change all the time and it is easy to fall behind. But with Brenda working with you, you will be kept up to date to guarantee that you are always on the right side of the law.
Kiss of Life will help you remain Health and Safety focused. All you have to do is call Kiss of Life and Brenda will ensure that the course is interesting and specific to your business and most importantly, that your staff are properly trained.
For further details about Kiss of Life's first aid training, please call Brenda on 01298 72900 / 07812 638 079 / 07840 831 262 or visit www.kiss-of-life.com
Kiss of Life Ltd
49 Punch Bowl Park
Manchester Road
Buxton
Derbyshire
SK17 6TB
Please remember to mention The Best of Buxton when contacting Kiss of Life with regard to first aid training courses. Thank you
Contact Us

49, Punch Bowl Park
Manchester Road
Buxton
Derbyshire
SK17 6TB