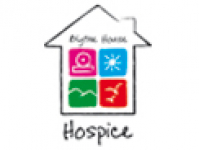 Blythe House Hospice
Eccles Fold
Chapel-en-le-Frith
Nr Buxton
High Peak

SK23 9TJ
T:
01298 815 388
about us

Established in 1989 by Rev'€™d Betty Packham, Blythe House Hospice is one of the only independent registered charities and charitable organisations that offers free and confidential palliative care services for people affected by cancer or other life-threatening illness in Buxton and the High Peak.
Based in Chapel-en-le-Frith, Blythe House Hospice provides free, holistic care and support in a tranquil, positive environment for anyone residing in Buxton or the High Peak, and living with cancer or other, life-threatening illnesses.
Having moved into a purpose-built centre in 2000, the Hospice has been extended four times to keep up with demand. With a highly skilled, dedicated team of specialist healthcare professionals, complementary therapists and volunteers, Blythe House offers tailored, practical help and support to those living with serious illness, as well as their families, carers and friends.
The charity offers a wide range of free, support services including:
Acupuncture

Bereavement support

Breathlessness management

Breast Care & Prostate Cancer Support Groups

Carers Living Well Service

Children's Counselling Service

Circle of Friends

Complementary therapies

Consultant palliative medicine out-patient clinic

Counselling

Creative Art groups

Education workshops

Family therapy

Headstart service

Heart failure out-patient clinic

Hypnotherapy

Key worker support

Living Well Services

Lymphoedema out-patient clinic

Macmillan Information & Support Centre

Mindful Meditation

Outreach service

Nursing care

Physiotherapy

Psychotherapy

Retreats

Spiritual, religious and chaplaincy support

Support groups

Welfare Rights & Benefits advice
Blythe House operates an open referral service, which means that whether you are a healthcare professional, relative, friend or carer, or you are living with cancer or another serious, life-threatening illness, you can get in touch.
Blythe House Hospice is open from Monday to Thursday from 9am until 5pm; other times by arrangement. If you would like to make a referral, please call the charity on 01298 815 388 or visit the Hospice anytime on Tuesdays or Wednesdays between 10am and 4pm.
Get involved
Whether you are thinking of fundraising or volunteering, Blythe House Hospice is always grateful for any support.
Volunteering
Volunteers have always been at the heart of Blythe House Hospice, with an enthusiastic team that support all aspects of the Hospice's work. By donating their time and expertise, volunteers have the opportunity to become part of a valued team and make a real difference to clients' lives.
We are interested to hear from anyone with time and commitment, sensitivity and a respect for confidentiality who is interested in joining the Hospice or Shop volunteer teams.
Fundraising
Blythe House Hospice makes no charge for its specialist palliative care services and support; however, every year, more than two thirds of its annual running costs, currently £600,000 - has to be raised via legacies, fundraising and generous donations from the local business community, residents, groups and charities.
There are a number of ways that you can donate or fundraise on behalf of Blythe House:
Join the Hospice's 49 club and have the chance of winning £20 each week
Make a monthly donation and become a friend
Invent an event
Join or develop a fundraising group
Remember the Hospice in your will
Give a home to one of the Hospice's dinky collecting houses and fill it with your small change
Contact Blythe House Hospice
Please call Blythe House on 01298 815 388 for further information about the specialist palliative care available, to make a referral or discuss volunteering or fundraising opportunities.
Blythe House Hospice
Eccles Fold
Chapel-en-le-Frith
Nr Buxton
High Peak
SK23 9TJ
Please remember to mention The Best of Buxton when contacting Blythe House Hospice.
© The Best of Buxton