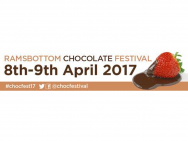 Date:
28/03/2015
Chocolate lovers will be in heaven at Ramsbottom's annual Chocolate Festival, taking place on 28th and 29th March 2015.

Date: 08/03/2015
Annabelle's Challenge, a local charity, will be hosting a fabulous Frozen Tea Party!

Date: 19/03/2015
A fantastic opportunity to meet hundreds of business owners from across Bury and the North West, build alliances, new contacts and maybe even do some business.